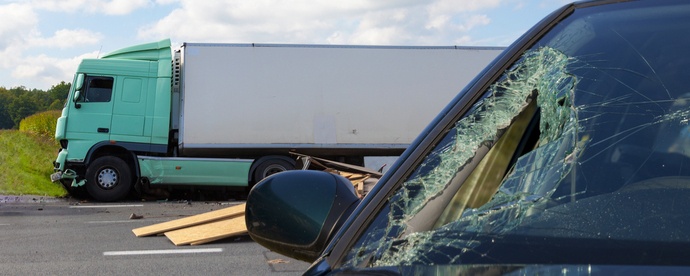 If you manage a fleet, there is nothing you'll want to avoid more than the nightmare of your vehicles getting involved in accidents.
When accidents do happen, you're immediately faced with a whole host of direct costs, ranging from damage to the vehicle and cargo plus towing costs, through to higher insurance premiums and vehicle storage costs.
But the costs of dealing with accidents don't stop there: there are also many potential indirect costs too. These often far outweigh the cost of preventative measures, such as fitting safety equipment and better driver training. Let's take a look at what some of these hidden financial hassles are.
Lost time and salaries
If a driver is injured and needs time off work to recuperate, then you will still need to pay them – while bearing the cost of replacement drivers. Also, even after a minor accident, both drivers and managers need to spend many hours making sure the incident is properly reported to bodies such as the police, the Health and Safety Executive and CLOCS. This is expensive admin you could do without.
Recruitment and training
If a driver has to be dismissed following an accident, then you need to invest both time and money in recruiting and training a replacement employee. This bill can run to thousands of pounds.
Lost contracts
Accidents, especially serious ones, can damage your company's reputation and lead to lost contracts. This is particularly likely if safety rules and regulations were not properly adhered to. You also face increased public relations costs as you try to restore your company's reputation.
Vehicle downtime
When a vehicle is damaged in an accident, then you either have to wait for it to be repaired (leading to lower productivity) or find a replacement (leading to extra expenditure). This can also be time consuming which is an additional hassle. However, if you hire your vehicles from a provider that offers replacements while yours are out of action then at least you can replace your vehicle swiftly reducing downtime..
Investigation and training costs
When an accident happens, you need to bear the cost of investigating what went wrong and putting systems in place to avoid something similar happening in the future. This can include driver training costs and even sourcing vehicles with additional safety features. You may also find yourself the subject of a Health and Safety Executive Agency investigation, which costs both time and money – and can lead to major fines.
Legal costs
If either your driver or vehicle is found to be at fault, then you also open yourself up to legal action from any third party who was involved. Not only is this expensive in terms of hiring lawyers and potentially having to pay compensation, it is extremely time consuming – and that's time that would be better spent on your business.
Medical costs
You may also face medical costs that aren't covered by insurance, which can be wide ranging and include treatment facilities, equipment and personnel. At the very least you will need to cover the excess stipulated by your insurance policy.
As you can see, accident costs are rather like an iceberg – there are myriad of hidden costs that aren't immediately visible. It's far better to ensure your vehicles are as safe as possible ­– and your drivers are properly trained ­– before a mishap occurs. It may cost a little extra, but the savings you'll make by working hard to avoid accidents are more than worth it.
If you are a fleet operator and you'd like more ideas on how to keep accidents to a minimum, why not take a look at our free eBook: