Construction vehicle hire
We provide access to an extensive fleet of vehicles servicing the construction sector and related industries across 28 locations in England, Scotland and Wales.
You can also rest assured that we have the specialist knowledge for your business – from ensuring that the construction vehicles requested are right for your business, to formulating specification plans for specialist needs and keeping your vehicles on the road with managed maintenance, breakdown cover and repair.
Fill in the form and one of our construction vehicles experts will get in touch.
Construction vehicle hire to suit your business
With 65% of our customers operating in construction or related industries, we understand the need to move fast yet maintain flexibility when you need vehicles. And that you will want peace of mind that the hire is on the terms that suit you. Add to this our 60 years' of industry experience and the pride we take in our service and you know you are in safe hands.
Why choose us?
Our flexible approach goes much further than hire periods and vehicle types. It runs through every aspect of how we support your business. And it drives us to always exceed your expectations. On a practical level, this could mean customising a vehicle to suit your specialist needs, or conducting unscheduled maintenance at night, or over the weekend, so that you can keep your customer promises.
Our approach is to listen to what you are trying to achieve, work with you to specify the right vehicles for your needs and then provide a support package that'll keep your business on the road.
We offer:
The capacity and flexibility to meet your changing business needs.
A huge range of LCVs and HGVs to match exact specifications, from minor modifications right through to custom-built vehicle bodies.
One of the youngest fleets on the market giving you access to the latest vehicles and technology.
24/7/365 national breakdown and recovery services and proactive maintenance packages, to help keep you on the road.
Direct Vision Standard
The Direct Vision Standard (DVS) for vehicles over 12 tonnes comes into play in March 2021. Make sure you're prepared. Hire DVS compliant construction vehicles with Flex-E-Rent.
We've put together a resource that details everything you need to know about the Direct Vision Standard, from how you can apply for a permit, to keeping compliant. Read it here.
Learn about our range of construction vehicles for hire
Download the specifications by clicking on the links below.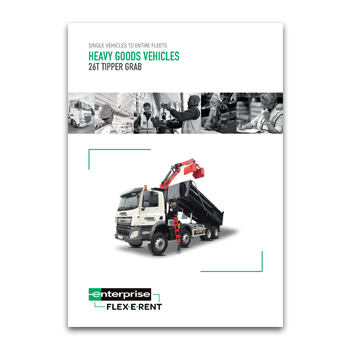 Finance terms
Flexibility is at the heart of everything we do. For some, this might mean getting a construction vehicle for a couple of weeks to service an unexpected peak in orders, or it could be that your requirements grow and shrink in line with seasonal variations. Or perhaps the facility to hand vehicles back with just a few days' notice, without incurring any penalty charges, suits the way you operate. Take a look at our hire terms below:
Flexible Hire
Get the vehicles you want with the modifications you need. Return or exchange vehicles without any penalties, and enjoy our expert support every step of the way.
Head office
Flex-E-Rent House,
Knights Way,
Battlefield Enterprise Park,
Shrewsbury,
Shropshire
SY1 3AB
---
T: 0800 328 9001
F: 01743 457 648
E: FER_info@ehi.com