Commercial refrigerated van hire
In response to customer demand, we made refrigerated van hire part of our commercial fleet offering.
The Enterprise Flex-E-Rent Temperature Controlled division, formerly known as Refrigerental, is now enjoying huge industry success, receiving several awards and professional accreditations as well as positive reviews from major clients. With our highly specialised fleet of freezer vans and trucks still growing, we can meet any cold chain needs.
A wide range of refrigerated vehicles
Our refrigerated fleet of over 1,000 vehicles is formed entirely from brand new Euro 6 models. Our varied vehicle range includes small vans, MWB and LWB refrigerated vans, and 7.5 tonne, 18 tonne and 26 tonne refrigerated trucks with custom-built box bodies. Refrigerated bodies are made to specification and supplied by leading industry bodybuilders.
We can also provide vehicle modifications such as single or multi-temperature compartments, or multi-temperature longitudinal lanes, to suit your operations. Temperature applications range from chill to deep-frozen, and multi-temperature compartments cater for more complex operations. The latest cold chain technologies are fitted across all vehicles, including silent refrigeration systems, standby facilities and the latest Transcan temperature recorders.
We can even provide pharmaceutical specification fridges, with additional sensors and body specifications allowing temperature-sensitive supplies to be transported safely.
Why choose us?
All our refrigerated vehicles are ATP certified, demonstrating their quality and performance. However, we include the refrigeration manufacturers' repairs and maintenance package across all vehicles, so any fridge faults can be rectified as quickly as possible. Our vehicle maintenance and servicing package are also included as standard to solve any automotive issues customers may face.
If you are unsure as to what to look for when formulating your vehicle specifications, our refrigerated vehicle hire team is on hand to answer any of your questions and you may also find this guide useful: 'What to look for when hiring refrigerated vehicles'.
Learn about our range of refrigeration vehicles for hire
Download the specifications by clicking on the links below.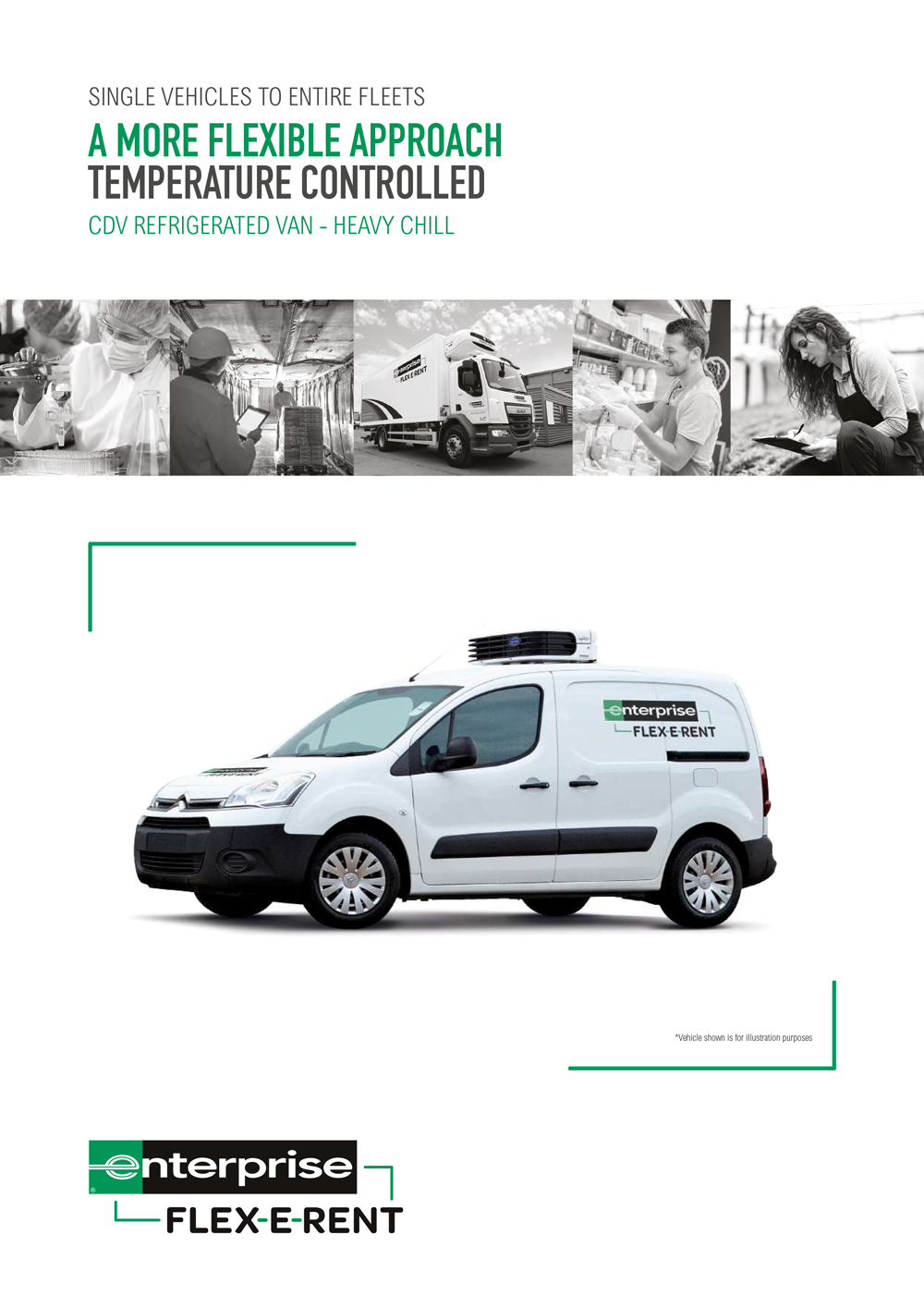 Finance terms
Whatever industry sector you work in, our refrigerated van hire team can help. We'll specify, source and supply the perfect fleet for your business, and support your vehicles while they're on the road. Take a look at our hire options below:
Flexible Hire
Get the vehicles you want with the modifications you need. Return or exchange vehicles without any penalties, and enjoy our expert support every step of the way.
Flexible Hire
Get the benefits of fixed term and short term hire in one package
No notice required for vehicle returns, no added penalties, no hidden charges
Reduce the risk of long-term fixed hire
Vehicles can be modified to your specifications, with ancillary equipment and company livery available
Head office
Flex-E-Rent House,
Knights Way,
Battlefield Enterprise Park,
Shrewsbury,
Shropshire
SY1 3AB
---
T: 0800 328 9001
F: 01743 457 648
E: FER_info@ehi.com