Curtain-side truck hire
Curtain-side truck hire is important for many of our customers, offering a convenient transport method for heavy goods. Enterprise Flex-E-Rent provides cost-effective hire options for construction vehicles and more.
Get a quote today for curtain-side truck hire by simply filling in the form.
Choosing curtain-side truck hire
Our vehicle fleet includes thousands of HGVs, and we provide bodies of sizes to suit a wide variety of industry applications.
Curtain-side trailers offer easy access, enabling fast and efficient loading and unloading of palletised or particularly large loads. Enterprise Flex-E-Rent provides curtain-side trucks with 7.5 tonne, 18 tonne and 26 tonne capacity, offering customers a choice in capacity. We source our curtain-side trucks from reputable manufacturers such as DAF, Iveco, Mercedes, Mitsubishi, and Ford.
Flexible, weather-resistant curtains are mounted on the sides of the vehicle so goods can be transported safely and protected from damage.
Why choose us?
Enterprise Flex-E-Rent offers specialist commercial curtain-side hire to suit every industry sector. We can even modify or build custom fleets to satisfy unique customer needs. All our curtain-side trucks benefit from comprehensive service, maintenance and repair packages, regardless of the lease term. This commitment to customer care supports our 'keep you on the road' philosophy.
Direct Vision Standard
The Direct Vision Standard (DVS) for vehicles over 12 tonnes comes into play in March 2021. Make sure you're prepared. Hire DVS compliant curtain-side trucks with Flex-E-Rent.
We've put together a resource that details everything you need to know about the Direct Vision Standard, from how you can apply for a permit, to keeping compliant. Read it here.
Curtain-side truck hire from Enterprise Flex-E-Rent: Choose a vehicle for hire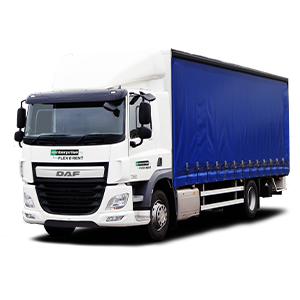 18t Curtain Sleeper Tuck Away Lift
About this vehicle
Model:
DAF CF 250
Est Payload ∓ 5%:
8650kg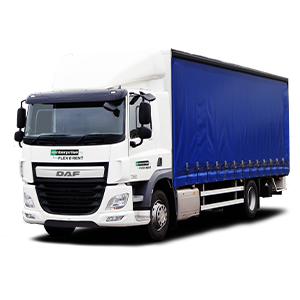 26t Curtain Sleeper
About this vehicle
Model:
DAF CF65.290 FAR 6x2 Sleeper
Est Payload ∓ 5%:
15,500kg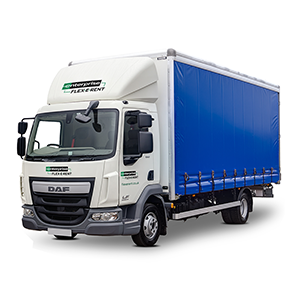 7.5t Curtain Tuck Away Lift
About this vehicle
Model:
DAF FALF150 4x2 Day Cab
Est Payload ∓ 5%:
2420kg
Can't find what you are looking for?
Finance terms
Enterprise Flex-E-Rent offers curtain-side truck hire to suit our customers' differing needs. Long term hire, short term hire and flexible hire options provide fleet managers with an unrivalled choice. Talk to our hire team and discover how we can help your fleet.
Flexible Hire
Get the vehicles you want with the modifications you need. Return or exchange vehicles without any penalties, and enjoy our expert support every step of the way.
Head office
Flex-E-Rent House,
Knights Way,
Battlefield Enterprise Park,
Shrewsbury,
Shropshire
SY1 3AB
---