The Ultimate Guide to Van Hire for Businesses
For companies of various sizes, van hire is vital to running a successful fleet, but there are various hire options to choose from. In this guide, we look at how flexible van hire stacks up against long-term hire and short-term hire - beginning with the regulations you need to be aware of before making your decision.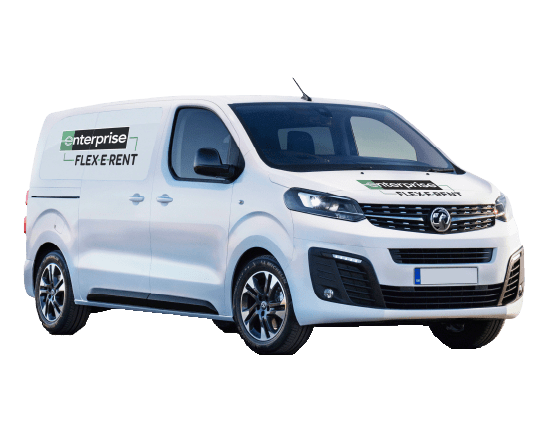 Challenges with ensuring compliance in your fleet
For fleet managers, a key challenge is keeping up with many changing regulations and ensuring ongoing compliance. You need to be aware of how to be compliant in the following areas:
Safety
Safety is obviously a key issue for van fleet operators, with accidents extremely costly to both employers and employees. There are various legal requirements businesses must comply with, particularly when travelling in London:

Fleet Operator Recognition Scheme (FORS): A voluntary scheme for fleet operators, FORS aims to raise the level of quality within fleet operations, and to demonstrate which operators are achieving exemplary levels of best practice in safety, efficiency, and environmental protection.
Work Related Road Risk (WRRR): Another TfL initiative, WRRR is a set of freight safety contractual requirements for fleets working within Transport for London's supply chain. To comply with WRRR, companies must meet the following:
Safer operations
For contracts advertised after 1 November 2018, the minimum requirement is FORS Silver.
For contracts advertised prior to 1 November 2018, the minimum requirement is FORS Bronze.



Safer drivers
Drivers are to receive training consistent with the FORS Silver standard. There is a list of approved training courses on the

FORS website

.
Environmental
The UK's target is to reduce emissions by at least 80% by 2050, meaning it is increasingly important for fleet operators to adhere to environmental legislation. Here are the key environmental requirements to be aware of:
Ultra Low Emission Zone (ULEZ):
ULEZ operates within the same area of central London as the Congestion Charge. Most vehicles need to meet the ULEZ emissions standards or their drivers must pay a daily charge to drive within the zone of £12.50 for most vehicle types, including:
Small vans (weighing up to and including 1.205 tonnes unladen weight).

Larger vans, 4X4 light utility vehicles, motorised horseboxes, pickups (over 1.205 tonnes unladen weight up to and including 3.5 tonnes gross vehicle weight).

Ambulances and motorcaravans (2.5 tonnes to 3.5 tonnes).

Minibuses (more than 8 passenger seats, not over 5 tonnes).
There is also a penalty charge for not complying, of £160 (reduced to £80 if paid within 14 days). However, regulations such as ULEZ are becoming more commonplace, with an increase in regions in the process of, or considering the implementation of clean air zones. This means even if you don't operate in London, you need to bear this in mind when purchasing or hiring your vans.


What do I need to do to ensure compliance?
Flexible van hire, long-term van hire, or short-term van hire: How to choose the right van hire option
In addition to compliance, choosing the best leasing option for your organisation depends on the size, scale and needs of your business. For fleet operators, there are three types of van hire to consider: flexible van hire, long-term van hire, or short-term van hire. Here's what you need to know about each:
1. Flexible van hire
Small businesses still struggle to afford the hefty costs associated with purchasing fleet vehicles. Not only that, but flexibility is hugely important to small companies, particularly during periods of expansion. Requirements can vary drastically from month to month, even from week to week, and many firms also have to consider seasonal fluctuations in demand. That's why flexible van hire arrangements could be a good option. With flexible van hire, customers can lease vehicles without any long-term commitment and return them without penalty.
But a good price isn't the only factor businesses need to consider. They also need a company with the capacity and flexibility to accommodate sudden changes in their circumstances, such as a fluctuation in demand.
Seasonal rushes (such as Black Friday and Christmas), can lead to fleet managers struggling to find capacity for the sudden influx of orders. This was also a prominent issue for businesses during the COVID-19 pandemic, where increased demand meant a struggle to scale fleets to meet new requirements. Flexible hire allowed businesses to stay on the road, as they could scale up to meet their needs, and hand the vans back when they no longer needed them.


See how Enterprise Flex-E-Rent helped keep key workers in UK businesses on the road throughout the COVID-19 pandemic with our flexible commercial vehicle hire services.


That's why flexible van hire could be a good option for fleet managers, as you never know when your fleet will need to expand. Flexible hire also goes hand in hand with car club schemes, which reduce the risks and costs associated with operating a grey fleet, while giving your drivers access to the latest vehicles.
Enterprise Car Club now also includes vans - drivers can simply check online or in-app to find the vehicle they need, for as long as they need it for.


2. Long-term van hire
Long-term van hire can provide fleet managers with access to vans for a predetermined fixed period, which is useful as they know exactly how long they have them for. Hiring vans in a long-term contract also means businesses don't have to pay for them upfront, meaning that they don't have to take out bank loans, or pay more than they need to at one time. It also gives you access to the latest models with enhanced safety features and technology - though due to the terms of the contract, you won't be able to upgrade vehicles like you can with flexible hire, which may be worth bearing in mind.
That being said, long-term van hire is a great choice for those who don't want to purchase outright, but want access to the same van for a longer period.
Still stuck between buying or hiring your vans? Check out our free guide
3. Short term van hire
Short term van hire is an excellent option for companies needing to expand their operations, but without the willingness to commit to a long-term contract.
Hiring vans in the short term also means you'll be able to access more up to date vehicles more frequently than with long-term hire, and you won't have to purchase them outright - saving you vital money in such an uncertain economic climate. For those businesses wanting to expand their fleet, yet also have some flexibility with their finances, short term hire can help you minimise the operational costs associated with business growth.
Why choose van hire with Flex-E-Rent?
We provide organisations of all sizes with the vehicles they need to operate their fleet cost-effectively and successfully. Our extensive fleet includes thousands of vans, giving you a comprehensive vehicle choice, with the option to flex to meet your needs.
Each of the vans in our fleet meets the necessary regulatory requirements, has the latest in safety technology, and can be hired in a contract that works best for you.