Essential Guide to HGV Hire
For fleet managers, having access to the right HGVs in the volumes they need can be a real challenge. Particularly in the current climate, economic uncertainty and ever changing legislation means it can be difficult for fleet managers to keep costs down while ensuring they are compliant.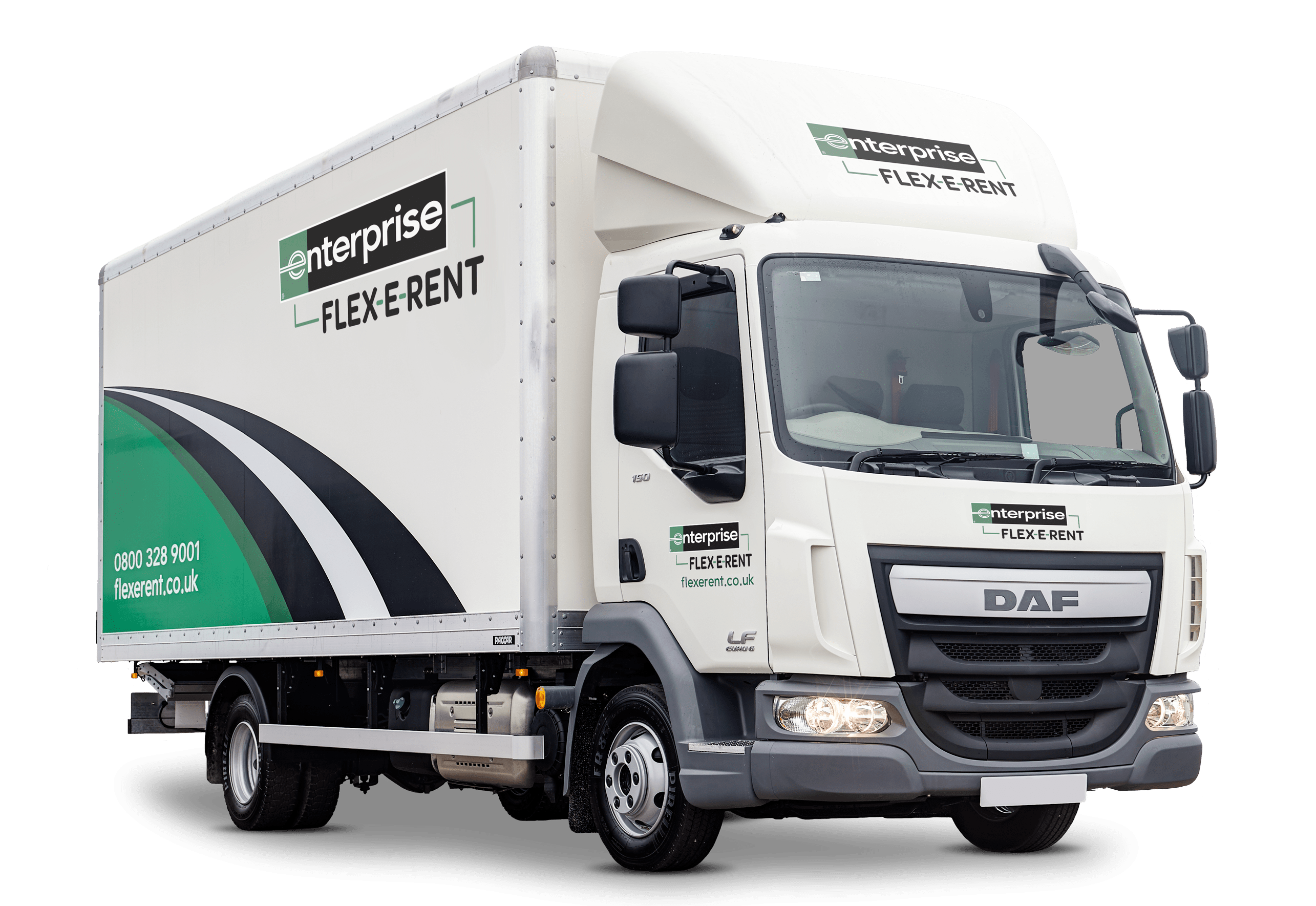 Core challenges for HGV fleet managers
Purchasing HGVs outright is expensive, and second-hand HGVs risk becoming non-compliant, spending more time off the road and needing more repairs due to their age. Fleet managers therefore need a solution that can meet their vehicle needs, while keeping costs down and ensuring compliance.

HGV hire is that solution. In this guide, we explain why - including the core challenges for HGV fleet managers and how hiring HGVs can help address them.
Changing Legislation
Regularly changing legislation is perhaps the biggest challenge for HGV fleet managers. With regulations constantly being updated, it can be difficult for HGV fleet managers to know how best to consistently meet the requirements they need to. That's why purchasing HGVs outright poses a huge issue; there's always a chance that even if you purchase a vehicle now, due to changing regulations, it could be non-compliant in as little as a year.

With an increasing amount of pressure for HGVs to be not only safe but economical and environmentally friendly, this risk is increased - particularly for those operating a fleet in London. The Safer Lorry Scheme, the Ultra-Low Emission Zone (ULEZ) and the Direct Vision Standard (DVS) are good examples of this. See what the impact of these three core pieces of legislation are below.


How the Safer Lorry Scheme affects HGVs
The Safer Lorry Scheme requires vehicles operating in and around London over 3.5 tonnes to be fitted with Class V and Class VI mirrors that improve visibility of pedestrians and cyclists, as well as side guards to prevent cyclists being dragged under the vehicle's wheels. Failure to comply will result in a £50 Fixed Penalty Notice for drivers, and a potential fine of up to £1000 at a Magistrate's court.
The impact of the Safer Lorry Scheme is huge, as we've seen with the development of the DVS.


How ULEZ affects HGVs
The ULEZ was implemented in April 2019, and comes with a charge that impacts all vehicles that don't meet the Euro VI standards. For heavier vehicles, including lorries (over 3.5 tonnes) and buses/coaches (over 5 tonnes), the daily charge is fixed at £100. There are also penalties for not complying with the standards, which could prove extremely costly for fleet managers with multiple vehicles operating in London.

However, regulations such as ULEZ are no longer just an issue for London-based fleet managers, with more and more regions in the process of, or considering implementation of clean air zones. This means that fleet managers across the UK need to be aware of how compliant their vehicles are, and be cautious when signing longer term contracts for their newer vehicles. There are scrappage schemes in place to help fleet managers with non-compliant vehicles, which you can find more about in our blog.

For more guidance on ULEZ, read our complete guide here.


How the DVS affects HGVs
The Direct Vision Standard (DVS) requires operators of lorries over 12 tonnes gross vehicle weight to apply and obtain a safety permit to enter or operate in Greater London from March 2021. Like ULEZ, there are fines involved for not complying, which poses a great challenge for fleet managers with HGVs that need to be fitted with compliant safety features.

To learn everything you need to know about the DVS, read our guide here.

Ultimately, the changing regulations regarding the safety and economic friendliness of large vehicles aren't going away anytime soon. It remains an increasingly dominant challenge for fleet managers, and one that they need to be extremely aware of when choosing the vehicles to make up their fleet.
Economic Uncertainty
Due to the impact of COVID-19, the challenges that HGV managers are already facing have been heightened. Because of the economic impact, many organisations are only securing very short-term contracts, which means they risk being left with more vehicles than they need, or can afford when the contract ends. This risk is increased when financial stability is considered - if a company you have a contract with goes out of business, you're ultimately left with increased vehicle costs, and no work to subsidise it.

There are also problems with increased demand in peak periods, where businesses may need to expand their fleet, but the restricted supply of new vehicles or the financial implications of purchasing the necessary vehicles could be detrimental.

Additionally, during the UK coronavirus lockdown, many HGV fleet managers saw an unprecedented increase in the need for HGVs. Having the right vehicles to meet this demand suddenly became a 'make or break' situation, where organisations had to either find the vehicles they needed, or risk losing out on the opportunity. Purchasing vehicles isn't economically viable in this situation, because as COVID-19 has shown, you cannot predict when demand will increase, or come to an abrupt end.

Hiring HGVs in the short-term therefore makes logical sense - particularly when choosing a rental provider that offers flexible contracts. Flexible HGV hire means that businesses can rent the HGVs they need, when they need them, and simply hand the vehicles back when demand decreases - ensuring you aren't left with expensive vehicles that won't be used.

See how Enterprise Flex-E-Rent helped keep key HGV workers in UK businesses on the road throughout the COVID-19 pandemic with our flexible commercial vehicle hire services.
Vehicle Technology
We have seen rapid developments in vehicle technology across the board - but especially in HGVs. The increasing emphasis on safety for HGV drivers, pedestrians and cyclists means that older HGVs don't have the safety features needed to be compliant. Newer HGVs aren't just safer, either - but more efficient. Particularly for SMEs, this is key. Margins for smaller businesses can be unforgiving, and in order to survive, they need to remain efficient. Efficiency in older vehicles is virtually impossible. In order to stay competitive, fleet managers need to innovate.
Driver Shortages
A shortage of competent drivers is a continuing issue for HGV fleet managers. In a 2019 FTA report, the shortage of HGV drivers in the UK had climbed to 59,000, with 64% of transport and storage businesses facing severe skills shortages. This is due to a number of factors, including a lack of young drivers and licensing changes that are now starting to impact current drivers. Historically, drivers were able to drive any vehicle up to and including 7.5 tonnes, however, today, new drivers need to take additional training to drive larger vehicles.

This means organisations are struggling to recruit new drivers for HGVs, and are having to raise the specification of their vehicles to improve their image and attract these newer drivers. Again, the issue lies in outdated vehicles. In order to keep up and stay competitive, organisations need access to these vehicles, without breaking the bank.

HGV hire can help companies expand their fleet without the financial burden. Enterprise Flex-E-Rent's Flexible HGV hire provides the perfect balance between affordability and flexibility.
Cleanliness and Hygiene
The impact of the COVID-19 pandemic has created even more challenges for fleet managers.

Cleanliness and hygiene has emerged as an increasingly important consideration, as fleet managers now have a duty of care to their drivers to ensure they are using clean and properly sanitised vehicles. Besides the obvious risks of COVID-19, any illness can contribute to a further shortage of drivers, cleanliness and hygiene should be at the forefront of fleet managers' minds.

See how Enterprise Flex-E-Rent's Complete Clean Pledge is helping fleet managers solve this new challenge with flexible hire.

Ultimately, these challenges aren't going to disappear, and fleet managers need to acknowledge and find ways to address them. Fleet managers need to understand how they can keep their HGVs safe and compliant, both now and in the future.
How to improve HGV safety and compliance
Heavy goods vehicles (HGVs) play an essential role in the UK economy, transporting goods across the country, however, have a troubled reputation when it comes to road safety.

Transport for London's (TfL) "Cycle Safety Action Plan" found that while HGVs account for 3.5% of vehicle miles travelled in London, they are involved in 45% of accidents where a cyclist is killed.

Here are the most effective ways to improve the safety of HGVs and ensure compliance of your fleet:
Driver training
HGV drivers now need to do 35 hours of periodic training every 5 years in order to keep their Driver Certificate of Professional Competence (CPC). Driver CPC is a set of standards established by the European Union to ensure all professional drivers are both competent and proficient. Drivers can be fined up to £1,000 if caught driving professionally without one.


Accident Procedures
No matter what policies and procedures you have in place, accidents can and do happen. The best thing you can do is to be prepared by creating a procedure for drivers to follow in the event of an accident. You should also ensure that every driver is aware of the accident procedure, such as hosting a training course on what they need to do in this kind of situation.


Weather warnings
Even the best laid plans can go out the window if the weather takes an unpleasant turn. Therefore drivers should stay up-to-date with weather reports, allowing them to make changes to their journey to keep road users safe. For example, in the case of high winds, you may have to consider rerouting your HGVs away from open roads.


Telematics
Telematics and vehicle tracking systems can give you an advantage in terms of route planning and safety considerations. By collecting accurate data about the routes your drivers take, not only will you be able to find the quickest route, helping with efficiency and costs reductions, you'll also be able to identify and resolve any safety concerns. For example - do your drivers have enough time to complete their journeys? Were they put under any unnecessary stress?


Keep your vehicles up to date
It's clear that one of the biggest challenges fleet managers face is keeping their vehicles up to date so that they comply with the relevant legislation and are safe enough for their drivers to use. However, this is often easier said than done. Fleet managers ultimately need to purchase more vehicles, but understanding the best route in which to do this is challenging. So, how exactly should fleet managers go about purchasing the right HGVs for their drivers?
Choosing the right vehicle for your HGV driver
With such a growing shortage of HGV drivers, it pays to offer your own drivers the best working conditions possible. Drivers who feel their HGVs are cramped, tiring to drive, unsafe and/or unhygienic are much more likely to look elsewhere for a job — and they're in a buyer's market. So how can you choose vehicles that your HGV drivers will appreciate?

Firstly, consider consulting with them. Ask what they like about their current vehicles, and what changes they would make to improve their productivity and comfort. Their answers are likely to contain some of the following suggestions:


Cyclist safety features
Specialist cyclist alarms
'Turning left' alarms
Side guards
Blind spot mirrors

Other safety features

Driver comfort
Roomy cabins
Air conditioning
Ample cabin height
Adequate sleeping space
Storage space and lockers

Properly sanitised and hygienic vehicles in line with COVID-19 recommendations

After consulting with your HGV drivers and considering what you need to do to be compliant with the relevant legislation, you have two options: buy your HGVs outright (whether that's new or second-hand), or hire them. Let's take a look at which is best.
The Issues with purchasing HGVs
(even second hand)
1. Maintenance issues
The more miles your HGV has on the clock, the more likely it is that you will need to pay out for expensive maintenance and repair costs. HGV maintenance isn't cheap, and if you've bought a vehicle that needs expensive replacement parts soon after purchase, you could be landed with a series of major bills.


2. No warranty
The more miles your HGV has on the clock, the more likely it is that you will need to pay out for expensive maintenance and repair costs. HGV maintenance isn't cheap, and if you've bought a vehicle that needs expensive replacement parts soon after purchase, you could be landed with a series of major bills.


3. Corporate image

If your company uses new HGVs, it sends a signal to the world that your business is flourishing. Older, more worn-out vehicles say the opposite. HGVs in your company livery aren't just there to transport goods from place to place — they're part of your marketing, and they get seen by tens of thousands of people daily.


4. Lack of choice
If you operate a fleet of HGVs, it can be difficult to source enough vehicles of the right make, model and specification. As a result, your fleet can become a hotchpotch of different HGVs. That's not just bad for your corporate image, but it can have a knock-on effect that raises the cost of maintenance and repair.
Why hiring HGVs is the best option for fleet managers
Clearly, purchasing your vehicles is no longer a viable option. But hiring is. Though long-term hire can still present the same challenges and risks as purchasing HGVs outright, short-term hire and flexible hire present two cost-effective, sensible options for fleet managers. Let's take a look at both options.
Short-term HGV hire
Short-term HGV hire alleviates many of the challenges HGV managers face, without the risky commitment to a long-term contract. It helps businesses manage their fleet cost very well, and under the current circumstances, could help them adjust to the uncertain economic climate. This is because it allows businesses to keep a positive cash flow due to not having to purchase vehicles outright. This is an absolute essential for SMEs where financial margins are tight.


Flexible HGV hire
For HGV fleet managers, being able to adjust a contract to meet your individual needs is essential. With flexible hire, you can rent the HGVs you need, when you need them - with the ability to hand them back when you no longer require them at no additional cost. Flexible HGV hire will also give you access to the latest, innovative technology in newer HGV models, meaning that you can stay on top of regulatory requirements even as they change. Flexible HGV hire helps you manage your overall fleet costs much more efficiently, as you'll know exactly what vehicles you have available, and can expand or reduce your fleet as demand for drivers fluctuates.

For businesses moving forward, flexible HGV hire is the only choice for fleet managers.
Why you should choose Flex-E-Rent for your HGV hire
We provide organisations of all sizes with the commercial vehicles they need to operate their fleet. Our vehicle fleet includes thousands of HGVs, giving us the capacity and flexibility to meet the most challenging customer needs.

Enterprise Flex-E-Rent offers tractor units that meet Euro 6 emissions standards, as well as a huge range of rigids with box bodies, curtain-sides and specialist equipment. Our HGV hire specialists liaise with leading industry suppliers, including manufacturers, so customers benefit from vehicles that meet their particular industry needs.