Free Resource
A Guide to Construction Vehicle Hire
On this page: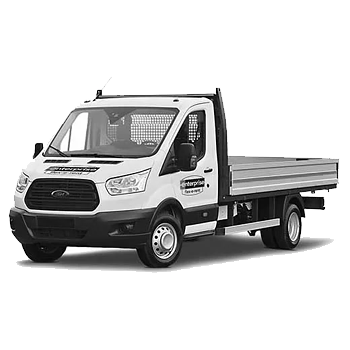 1. How to boost construction productivity and minimise vehicle downtime
Keeping to a thorough maintenance regime ensures that vehicles are safe, efficient and suffer from minimal downtime.
When it comes to scheduled servicing and parts replacement, you might expect us to say that we always adhere to the manufacturer's recommendations. After all, the people who built the vehicles must know best.
In truth, these specifications are based on "average" use and, if there's one thing we've learnt over the years, it's that there is no such thing as an average customer. Instead, we take a more proactive approach, one that's informed by our experience of running one of the largest fleets in the country. And with an MOT pass rate of 99.5% you can be sure it's an approach that works.
Every vehicle supplied by Flex-E-Rent has its own service schedule based on how we know the vehicle will be used, as well as our experience of that particular make and model. We work to plans designed to avoid unscheduled downtime and all the costs that go with it. Running to the wire might be cheaper for a rental provider, but our number one priority is to keep your business moving.
It's true that any amount of downtime, even if you know it's coming, can have an impact on your business. Which is why we operate a flexible, preventative approach to maintenance, with mobile engineers trained to deal with all types of vehicles, conducting servicing and repairs when and where it best suits you. However, if you prefer traditional dealer based servicing, we can arrange that as well. It's all part of our flexible approach.
2. How to improve construction vehicle safety
As vehicle safety initiatives evolve, and new research and technologies emerge, it can be difficult to keep up with best practices, in order to stay competitive and compliant in this fast-paced industry.
There is a growing recognition in the sector about the need for better management of fleet risk, both in terms of reducing the likelihood of incidents, driver safety and getting vehicles back on the road faster when accidents do occur.
Don't fall foul of changing construction vehicle safety initiatives and keep ahead of the competition. For more advice, speak to one of our construction vehicle experts today.
3. Our range of construction vehicles
Enterprise Flex-E-Rent offers a wide range of construction vehicles for hire to meet any business need and fleet budget. We're here to take away the stress when you need that extra vehicle for your construction job. With a wide range of sizes, we'll make sure there is a vehicle waiting for you right when you need it.

From 3.5 tonne vans to 7.5, 18, 26 and 32 tonne trucks, we can supply you with your ideal vehicle model. And if it's heavy-duty lifting equipment you need, our larger, robust trucks can be fitted out with mechanical grabs and cranes, offering additional functionality for the movement of large objects and loose materials.
We currently have the following vehicles available:
4. Over 30 years of construction industry knowledge
Whatever type of vehicles you run, you'll know the importance of working with a partner who understands what each vehicle means to your operation and has the resources, expertise and attention to detail that helps you get the most out of them each and every day.
Some customers know exactly what they want and need. They provide detailed lists of every element and want us to stick to this rigidly. We're happy to work to instruction. But not everyone has this level of internal expertise or resource.
Our sales and support teams have hands-on experience and knowledge developed through structured internal training programmes. In fact, many of our employees have been through CPC certification and hold an HGV license.
Put this all together and you have a team of people who understand the importance of making sure each vehicle is fit for purpose. They have in-depth knowledge of manufacturers' specifications, options and feasible modifications. And they can work with you to evaluate how the vehicle will be used and make recommendations on configurations and service plans that will help you maximise efficiency, whilst at the same time minimising the risks that come with operating any large construction vehicle.
5. Our construction services
Vehicle customisation: With our network of leading industry suppliers, manufacturers, dealerships and bodybuilders, we can customise and specify vehicles to meet the needs of the construction industry.
Vehicle telematics: Our online fleet management software enables customers to benefit from rich real-time fleet information, helping to improve construction productivity.
Fleet management: Service level agreements, agreed maintenance schedules and ongoing scheduled reviews are tailored to your business.
Vehicle servicing: When you have expensive assets such as construction vehicles, ensuring the vehicles remain fully utilised is extremely important, which is why we take a flexible and preventative approach to vehicle maintenance.
Vehicle repairs: Each of our vehicles come with full breakdown cover as standard, and a free replacement if we can't get you back on the road quickly and safely.
6. Why hire your construction vehicles?

Construction firms often experience peaks and troughs in business demand, according to the season, changing economic conditions and major project wins. In these cases, changing fleet needs must be met within a short time-frame in order for the company to meet work deadlines. Many clients want jobs completed as soon as possible and may go elsewhere in search of faster service.

Hiring instead of purchasing, enables a business to operate more cost-effectively in line with seasonal needs - meaning fewer vehicles, working harder for you.

At-a-glance benefits of construction vehicle hire:
No depreciation
No capital outlay
No Road Fund License or MOT
24hr Breakdown and Recovery
Access to the latest Euro 6 Vehicles
Meet contractual/ seasonal demand
7. About Flex-E-Rent
Enterprise Flex-E-Rent has a varied fleet of over 25,000 vehicles, and a network of bodybuilders, mechanics and leasing experts to support the needs of the construction industry.
As the name suggests, flexibility is at the heart of everything we do. For some, this might mean getting a vehicle for a couple of weeks to service an unexpected peak in orders, or it could be that your requirements grow and shrink in line with seasonal variations. Or perhaps the facility to hand vehicles back with just a few days' notice, without incurring any penalty charges, suits the way you operate.
On the other hand, you might prefer to have a longer term rental or contract hire arrangement and take advantage of predictable expenditure and lower costs. Either way, you'll benefit from the same total commitment to customer service, backed by the expertise and resource to deliver.
Our flexible approach goes much further than hire periods and vehicle types. It runs through every aspect of how we support your business. And it drives us to always exceed your expectations.
On a practical level, this could mean customising a vehicle to suit your specialist needs, or conducting unscheduled maintenance at night, or over the weekend, so that you can keep your customer promises.
Our approach is to listen to what you are trying to achieve, work with you to specify the right vehicles for your needs and then provide a support package that'll keep your business on the road.
In summary, Enterprise Flex-E-Rent have the capacity and flexibility to meet your changing business needs. We provide a huge range of LCVs and HGVs to match exact specifications, from minor modifications right through to custom-built vehicle bodies. We provide the latest vehicles and technology on the market, alongside 24/7/365 national breakdown, recovery services and proactive maintenance packages, to help keep you on the road.