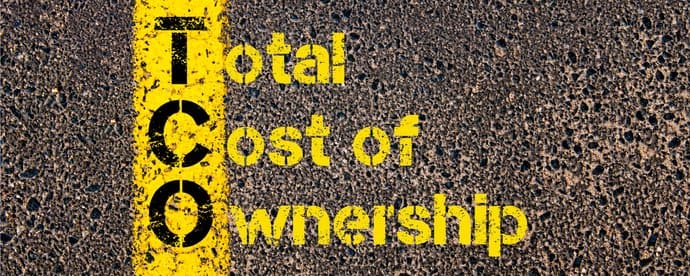 How to reduce costs is always a pressing concern for transport managers, however according to research only 10% of companies take the Total Cost of Ownership (TCO) into account when leasing vehicles.
This is quite a surprising statistics when you consider that the TCO – otherwise known as whole life cost – of a vehicle can vary considerably. However, many may be put off by what they deem to be a complex issue.
It needn't be. That's why we have put together the key issues that you need to consider to calculate the TCO of your van fleet – so that you can make the right choice of whether to buy or hire.
Purchase price / lease price v total monthly payments
The first consideration appears to be quite an obvious one. Over the lifetime of your vehicle, you need to consider the total upfront cost versus the total of ongoing monthly payments. However, with fleets the issues are not as simple as for consumer purchases, and there are a number of factors t you need to consider:
The cost of modifications
Modifications to suit your commercial needs will need to be factored in. If your van fleet needs to fluctuate then you may find that hiring is a better option. If you only require a one-size-fits-all approach then this is less of an issue.
If your business has spare capital, you can invest it directly in LCVs without having to pay interest on a bank loan or overdraft.
Is there a chance that you may need to release capital quickly for cash flow purposes? Or are there more productive ways that your capital could work for you?
Tax
Vehicle ownership entitles you to claim a write-down allowance – of up to 100% in the case of electric LCVs or as low as 8% if CO2 emissions are more than 130g/km. Vehicle tax rates are based on engine size, or fuel type and carbon dioxide (CO2) emissions, depending on when the vehicle was registered.
CO2 emissions
The government's carbon reduction plans have seen increasingly stringent measures placed on vehicle owners, such as the Ultra-Low Emission Zone – and with it comes a number of charges for non-green vehicles.
Fleet operators will therefore need to consider a number of factors when considering their vehicle options:
How often their fleets will be operating within proposed ULEZ and Clean Air Zones in the coming years – along with any charges or missed incentives for vehicles that do not fit the stringent criteria.

The likelihood that emissions standards will change again before the usual five to six year life span of vehicles.
Fluctuating demand
Some businesses like florists have a very definite fluctuating demand. If vehicles are purchased to cover this demand then it can lead to a surplus of requirements for a large portion of the year. In this instance, businesses may wish to consider commercial vehicle hire over buying – if not in full, then at least in part. Take a look at our flexible hire package for more information.
Depreciation and residual value
We are all aware that as soon as a new vehicle is driven off a forecourt, it immediately begins to depreciate in value. However, the rate at which vehicles depreciate in value can vary considerably. Fleet managers looking at buying their vehicles should therefore consider those that depreciate in value less quickly to maintain as much residual value for later sales. If you lease your vehicles, then the depreciation of your vehicles is met by your supplier and you can therefore base your decision on what type of vehicle to buy on factors that may be more important to your business operations.
Fuel consumption
Consider the fuel efficiency of all of the vehicles and calculate the total cost based on average / anticipated fuel consumption in future years. If you lease vehicles, it may be that you have access to a greater range of fuel efficient vehicles at a similar cost.
Vehicle ownership ensures that you are not hit with annual mileage caps or penalty charges. However, look into your lease provider terms – some are much more generous than others, especially those who specialise in commercial vehicle hire, as it is not in their interest to charge extortionate rates.
Another point to bear in mind is that excessive fuel consumptions can reduce resale value.
Maintenance cost
If you own your vehicles, you are fully responsible for servicing, tyres, and regular maintenance . If you have in-house maintenance professionals then this can keep costs low, but if you don't this can be expensive and keep your vehicles off the road for days at a time – meaning you'll need to source another vehicle to keep your staff working.
Find out more about whether commercial van hire or buying your vehicle outright is the best option for your fleet with our free guide below.