East Surrey Rural Transport Partnership Acquires 34 Accessible Minibuses with Enterprise Flex-E-Rent
Community transport operator East Surrey Rural Transport Partnership (ESRTP) has replaced 34 of its fleet of fully-owned minibuses with Enterprise Flex-E-Rent accessible vehicles.
ESRTP aims to source their entire fleet on flexible rental contracts through Enterprise Flex-E-Rent this year, which will help future-proof its services, including access to immediate replacement vehicles when the minibuses are being serviced or repaired.
ESRTP is a charitable company based in Oxted, Surrey. It operates minibuses throughout the east of Surrey, providing contracted day centre, school and rural bus services to Surrey County Council and the local community.
Established in 2006, it now has over 35 minibuses and around 70 drivers, escorts, mechanics and office staff. Historically, ESRTP bought one new high quality custom-built accessible minibus per year and also bought second-hand vehicles at short notice to take on new contract work. It also had to operate two garages with four full-time mechanics to keep the fleet on the road.
It has now switched to sourcing vehicles on long-term rental through Enterprise Flex-E-Rent, and this has resulted in significant savings. The vehicles include sixteen 16-passenger- seat accessible Mercedes Sprinters, five 16-passenger- seat accessible Peugeot Boxers and thirteen 16-passenger non-accessible Ford Transits.
Marcus Dodé, Chief Executive of East Surrey Rural Transport Partnership, comments: "Although last winter wasn't severe by any means, we struggled to maintain a fully operational fleet that was available to people every day. Often, it was the ancillary equipment such as power doors, steps and passenger lifts that kept vehicles off the road.
"Our management team and trustees of the charity realised that a fundamental change was needed. We chose Enterprise because of its in-depth experience in community and accessible transport: its experts were able to help us specify the vehicles precisely and delivered them on time and on budget. Enterprise also maintains the ancillary equipment and provides replacement minibuses when our fleet is being serviced or repaired.
"We no longer have the annual cost of employing mechanics, garage book-keepers, parts and consumables, vehicle excise duty and rent on two premises. And the level of service and patience we receive from Enterprise has made the process of moving away from an owned fleet simple and straightforward.
"A lot of the cost and hassle of managing a fleet has been removed and the new minibuses have been very well received by our drivers too."
Mark Howell, Sales Director at Enterprise Flex-E- Rent, adds: "Community transport is a highly specialist area that costs local councils and providers millions of pounds a year. Making that process more efficient is incredibly important, given the essential role that accessible vehicles play in the local community.
"They often need to be built to very precise specifications and reliable service and maintenance is essential to ensure they are on the road at all times – as well as a replacement service when vehicles need to be taken away for repair.
"This is a wonderful example of how long-term rental can help organisations source exactly the vehicles they want, backed up by maintenance, repair and a replacement service. If you select a partner with the right level of expertise in accessible minibuses, it's possible to achieve significant cost savings as well as a highly reliable service."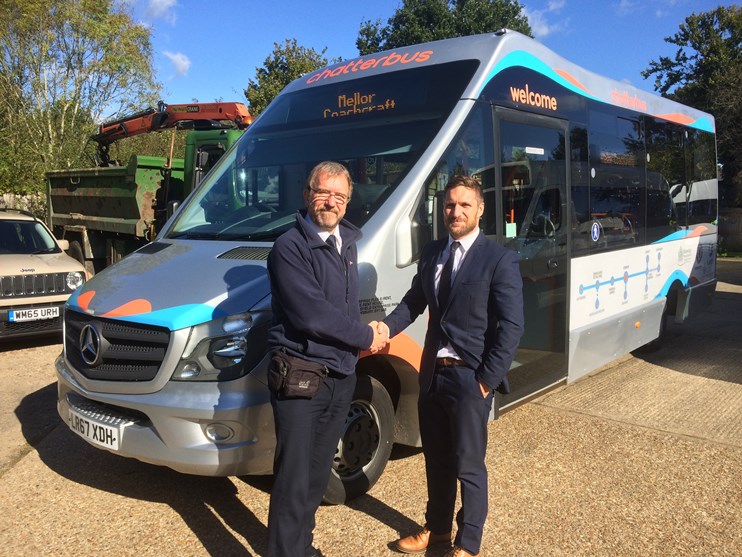 PICTURED (left to right): Marcus Dodé, Chief Executive of East Surrey Rural Transport Partnership, and Ashley Breeze, Business Rental Sales Executive, Accessible Vehicle Division, Enterprise Flex-E-Rent.