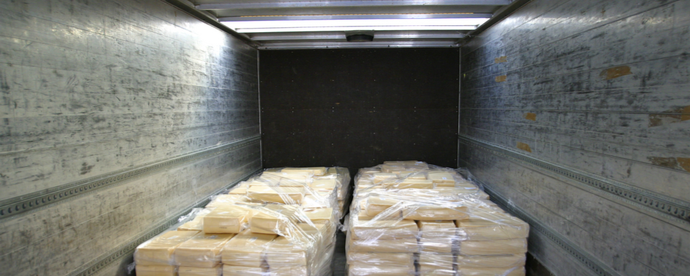 The UK food and drinks industry is a challenging place to be right now, and many businesses may be struggling to compete. With customers expecting fast and flexible service, could refrigerated van hire help your fleet to keep up with demand for deliveries?
Supermarkets struggle
The food and drinks industry is competitive at the best of times, and now a recent report from Kantar Worldpanel shows that UK grocery sales have fallen for the first time in two decades.
The reported value of sales fell by 0.2% for the 12 weeks to 9 November, in comparison to the same period last year. Tesco, Asda, Sainsbury's and Morrisons all suffered from falling sales figures, but sales at budget supermarket Aldi flew up by more than 25%, while sales at Lidl also rose by 16.8%.
Big supermarket chains have had a difficult period as shoppers head to discount retailers. Grocery prices have also been pushed down by 0.4% thanks to fierce price competition between supermarkets vying for customer loyalty, also leading to a reduction in revenue.
The Guardian quoted analysts at Goldman Sachs, who said major supermarkets may have to close one in five stores in order to financially recover. Analysts argued that brands couldn't compete against popular discount stores if the fight was based on price cuts alone - grocery stores need to offer a better quality of service if they want to survive.
Delivering to the door
As a result, more grocery businesses than ever are stepping up their home delivery services, but this can prove an enormous practical challenge. Built-up cities, commuter traffic and congestion charges can cause havoc for delivery vans in any industry, let alone for a refrigerated vehicle carrying perishable items and working to tight deadlines.
Many customers now expect flexible delivery services as brands compete with one another, and the demand for out-of-hours deliveries is rising. According to Global Cold Chain News, Asda is reinventing its fresh produce supply chain by moving store deliveries forward six hours. Demand from customers for 24-hour shopping and earlier home deliveries means that 5am is fast becoming the busiest time for Asda stores and staff.
How refrigerated van hire can help
A refrigerated vehicle is a necessity for any business offering food delivery services. These vehicles contain temperature-controlled compartments that keep groceries at the perfect temperature, ensuring that they arrive in great condition on the customer's doorstep.
However, refrigerated vans come with a hefty price tag, and a small business may struggle to find the capital to make an outright purchase. Refrigerated truck rental can provide companies with the ability to make regular monthly payments and lease a vehicle on a flexible basis - reacting to business demand while budgeting effectively!
As experts in refrigerated van hire, we put together this free guide to help you make the right decision when selecting a refrigerated vehicle: 'What to look for when hiring refrigerated vehicles'.