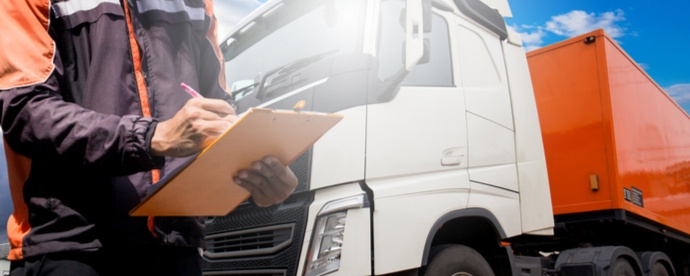 With new on-the-spot fines for commercial driver hours offences coming into effect, an effective audit is more important than ever in achieving fleet compliance and avoiding fines.
But do you know how often fleet compliance checks should be carried out? In this blog, we'll highlight the main areas of compliance fleet managers need to be aware of and the frequency of checks needed to keep compliant.
Employee audits
All employers have an obligation to ensure Work Related Road Safety (WRRS) criteria is met.
Carrying out an audit of every single position in the company may seem like a labourish job, but it's the only way to ensure that the health, safety and welfare of your employees is looked after and your business is compliant. Regular auditing in all organisations is critical due to the frequency of employees leaving, starting and changing job roles.
Typically, an audit of employees will establish:
Which employees drive for work and if they have a valid license

What vehicles and specialist equipment they operate

Understanding of internal policies and documents

Highway code knowledge

General health and wellbeing

Incident history
License checks
Regular, robust licence checks are needed to ensure ongoing compliance. While there is no official timeframe, fleet operators who fail to ensure that every driver's credentials are checked on a frequent basis, run the risk of falling behind on compliance.
Many businesses conduct licence checks for each driver at least once a year. However, it is worth remembering that drivers can rack up penalty points quickly and in a short space of time.
One-off checks can also be useful – whether conducted randomly or to check on drivers with known issues – for ensuring rigorous compliance.
A survey carried out by RAC Insurance found that only 13% of respondents would inform their employer of any points they incurred, with a worrying 25% already having points that they had failed to disclose. This simply underlines the importance for employers to make sure that they conduct regular checks of drivers' credentials – because, unfortunately, they can't always rely on drivers to own up.
Driver's hours
Commercial drivers and operators are being warned that the Driver and Vehicle Standards Agency (DVSA) can now issue on-the-spot fines for drivers' hours offences.
All driving you do under EU rules must be recorded on a tachograph and you must not drive more than:
9 hours in a day - this can be extended to 10 hours twice a week

56 hours in a week

90 hours in any 2 consecutive weeks
Fines are applicable to any vehicle using tachos and has committed a drivers' hours offence in the 28 days preceding the stop. As each fine is for a fixed sum of between £50 and £300, a single stop could result in a driver being fined £1,500!
Unlike analogue tachographs where the tachograph head is checked every two years and re-calibrated every six years, digital tachographs must be fully re-calibrated every two years, after any repair, if the vehicle registration number has changed or if there has been a change in tyre circumference.
In summary
Together, FORS and Transport for London (TfL) have suggested an approach to applying varying levels of compliance monitoring in the table below, outlining the frequency of checks required, based on the associated of risk.
Level

Desktop compliance check frequency

On site compliance check frequency

Operator depot compliance check frequency

Level 1

(Low risk)

6 months

25%

Once a year

Level 2

(Medium risk)

3 months

50%

6 monthly

Level 3

(High risk)

2 months

100%

3 monthly
Fleet compliance and driver safety should be at the heart of any business, and as an industry-leading van hire company we want to share our expertise. Our eBook guide explains why it's vital to implement a fleet compliance strategy, and how it's possible within a company setting. Download your free copy below.