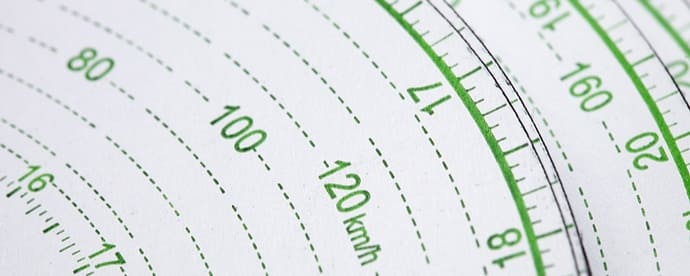 The tachograph – the original 'spy in the cab' – has been recording the speed and distance of commercial vehicles, as well as measuring driver hours, for many decades.
First made compulsory for goods vehicles over 3.5 tonnes in 1970 operating within the EEC, the prime purpose of tachographs is to make sure that drivers are complying with laws on working hours, regular breaks from driving and vehicle speed.
The only problem is that navigating these laws and rules can be a major headache. Depending on what vehicle you are driving, and which country you are driving in, you have to comply with Great Britain Domestic Rules, Northern Ireland Domestic Rules, EU Rules or International Road Transport (AETR) Rules.
Let's take a closer look at what they mean for your van fleet.
Vehicle weight
In a nutshell, if you have a van that has a total weight of 3.5 tonnes or under, you don't need to fit it with a tachograph, whether you drive it in the UK or in the European Union. However, the moment you drive any vehicle over this weight, you need – with very few exemptions – to fit a tachograph.
(It's also important to remember that the gross vehicle weight includes any trailer that is being towed. So if the gross train weight (weight of van and trailer), exceeds 3.5 tonnes you'll need a tachograph.)

Exemptions
There are a few exemptions to the rules, which are worth knowing about. For example, you don't need a tachograph for private driving, if you always drive off public roads or the vehicles are being used by the armed forces, police or fire brigade vehicle.
More relevantly for commercial fleets, if you use vehicles up to a maximum (or combined vehicle and trailer) weight of 7.5 tonnes, you don't need to fit a tachograph if you travel less than 100km from your operating base and:
You are carrying goods and your vehicle runs on liquid gas or electricity
You are carrying materials, equipment or machinery for the driver's use – and driving the vehicle is not the driver's main work activity.
However, while these vehicles do not need to be fitted with a tachograph, drivers must still comply with domestic drivers' hours rules.
Types of tachograph
If your vehicle does need to have a tachograph fitted, only vehicles registered before 1 May 2006 can use a traditional, analogue model. Newer vehicles need to be fitted with a digital tachograph, which encrypts the data for driver speed and journey time.
Tachographs and your fleet
As you can see, at the heart of the complex rules relating to vehicle speed and driver activity, there's a simple message – if you drive a vehicle that weighs over 3.5 tonnes in weight, you need a tachograph.
This fact has seen sales of larger vans drop, because fleet operators don't want the complication and administrative burden of complying with the regulations.
However, if you need to transport large volumes of goods, you either need smaller vans with a large payload or, if that's not practical, to fit a tachograph. We help businesses down either route, offering a variety of large payload smaller vans, plus larger vans with fully compliant digital tachograph technology included as standard.
If you'd like to learn more about tachographs and what they mean for your fleet – or any other aspect of van logistics or security technology, please get in touch. We're here to help you. We have also put together a guide to help fleet managers understand the importance of driver safety, the consequences of non-compliance and how to check if you are staying on the acting within the law: