If you're weighing up the pros and cons of renting your commercial vehicles as opposed to buying them, the one thing you really want to know is simple - which option is going to cost me more?
On the face of it, the figures are relatively straightforward. You add up the competing purchase or rental payments, add in additional costs like insurance, tax, fuel, maintenance plans or projected maintenance expenditure, and then compare the two figures over the length of a hire or buy contract period.
The only problem is that, if you do this, you're not comparing like with like. The reason for this is that the value of money decreases over time.
To illustrate, imagine you've been given £100 to buy something. You have the option of paying for it now, or paying for it in three year's time.
If you pay now, the cost in real terms is £100. If you defer for three years, the value of £100 will have fallen — so the cost to you at that point has effectively dropped.
That means you can use your £100 and invest it in something with growth potential at the outset of the three years. When the period is up — assuming your investment is successful — you will have a lump sum and a return that adds up to more than £100.
So if you got a return of £20 on your investment, you could then use your original £100 to pay for the item at the end of the three-year period. The £100 might have the same value as £90 did three years previously, so you've saved money in that respect. You also have an additional £20 return. Your money is working for you, rather than being locked in a depreciating asset like a vehicle.
Discounted cash flow and LCV purchase and rental
The practice of analysing the time value of money is known as 'discounted cash flow' (DCF) and it's commonly used in investment finance, property development and corporate financial management.
It's also an essential tool for assessing the payments you make to buy or hire a vehicle, and it can reveal some surprising results.
For example, research by Professor Peter Cooke, Professor of Automotive Management at the University of Buckingham has found that contract hire can be significantly cheaper than vehicle purchase — particularly when discounted cash flow is taken into account.
Here is a table of figures that resulted from his analysis: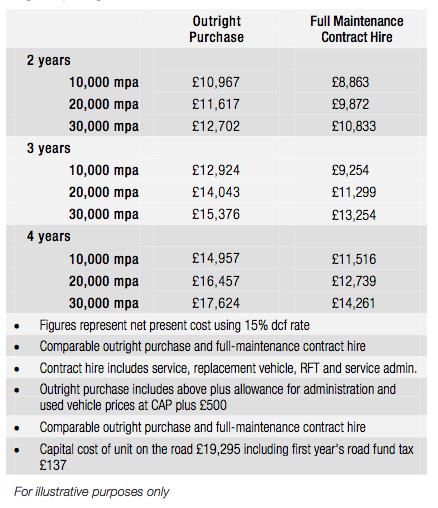 Professor Cooke uses a discounted cash flow (DCF) rate of 15% to make his comparison. Given the current economic climate this is arguably too generous, but even at a more realistic figure of 10%, contract hire and long-term rental still out-perform purchase. There's also no allowance for the cost of borrowing in the purchase figures — so if you need a loan to buy a vehicle, discounted cash flow further enhances the financial attractiveness of vehicle hire.
DCF is one of the key tools in assessing the cost of buying a vehicle. However it's also important that you look in detail at the hire options open to you, the benefits they bring — and the ways you could invest your money if you choose not to tie it up in a depreciating asset.
So before you order your next new vehicles, take a closer look at both the benefits and the costs that are on offer to you. Our free guide below will give you more in-depth information on which to base your decision.
Editor's Note: This post was originally published in April 2013 and has been updated for accuracy and comprehensiveness.