Discounted cash flow and LCV purchase and rental
The practice of analysing the time value of money is known as 'discounted cash flow' (DCF) and it's commonly used in investment finance, property development and corporate financial management.
It's also an essential tool for assessing the payments you make to buy or hire a vehicle, and it can reveal some surprising results.
For example, research by Professor Peter Cooke, Professor of Automotive Management at the University of Buckingham has found that contract hire can be significantly cheaper than vehicle purchase — particularly when discounted cash flow is taken into account.
Here is a table of figures that resulted from his analysis: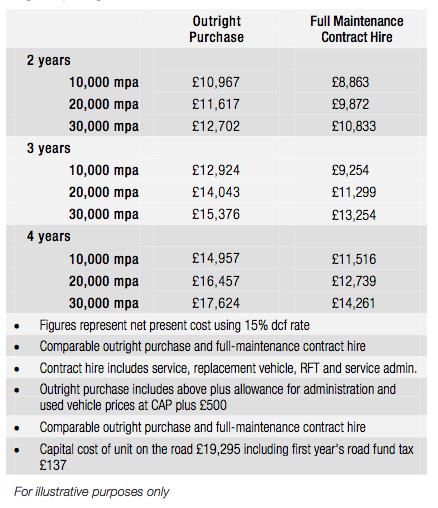 Professor Cooke uses a discounted cash flow (DCF) rate of 15% to make his comparison. Given the current economic climate this is arguably too generous, but even at a more realistic figure of 10%, contract hire and long-term rental still out-perform purchase. There's also no allowance for the cost of borrowing in the purchase figures — so if you need a loan to buy a vehicle, discounted cash flow further enhances the financial attractiveness of vehicle hire.
DCF is one of the key tools in assessing the cost of buying a vehicle. However it's also important that you look in detail at the hire options open to you, the benefits they bring — and the ways you could invest your money if you choose not to tie it up in a depreciating asset.
So before you order your next new vehicles, take a closer look at both the benefits and the costs that are on offer to you. Our free guide below will give you more in-depth information on which to base your decision.