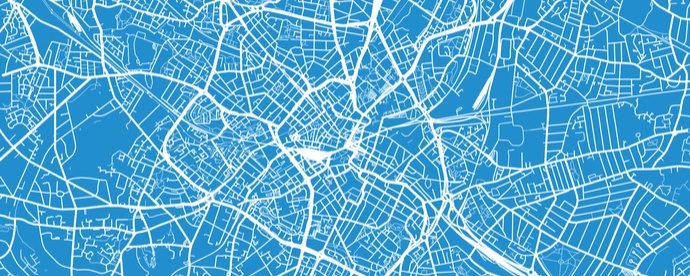 Fleets operating in and around urban areas face a wealth of different compliance issues, from emission standards to vehicle safety and noise pollution measures.
Last year, the Mayor of London, Sadiq Khan, unveiled his 'bold' transport strategy that aims to cut car journeys by 3 million each day.
But what about outside the M25? Are other cities stepping up their game and introducing stringent rules? What city changes do fleets need to be aware of?
While London has certainly been in the limelight recently with its updated proposal of the Ultra-Low Emission Zones (ULEZ), coming into force on 8 April 2019, it's not just the Capital leading the way for safety, clean air and low emission targets. In fact, Birmingham, Leeds, Nottingham, Derby and Southampton were all named within the government's 2015 air quality plan as requiring to have a Clean Air Zone (CAZ) in place by 2020, with more cities likely to follow suit.
While emission standards and visions for a cleaner and greener environment have certainly been a hot topic for a while, it's not just Clean Air Zones that will have a significant effect on fleets. With various transport plans, threats of Brexit and political uncertainty, it can be hard for fleet managers to keep up with the changing legislation - and even more difficult to navigate around different cities' transport priorities and how these changes may impact on their businesses.
That's why in this blog, we'll take you on a journey through the various regulations and changes affecting vehicle fleets operating in 5 key cities outside the M25 (Leeds, Manchester, Nottingham, Birmingham and Southampton), including current and likely future plans.
Manchester
Clean Air Zones
Pollution levels in some areas of Greater Manchester are more than one-and-a-half times the legal limit (nitrogen dioxide levels reached 66 micrograms per cubic metre on Oxford Road - when the statutory EU level is 40).
Manchester Mayor, Andy Burnham, said: "Climate change and air quality are two of the biggest issues facing us as a city".
To tackle this, Transport for Greater Manchester (TfGM) has proposed introducing Clean Air Zones as early as 2020. The plans highlight three main areas in Greater Manchester where restrictions may apply:
Several roads in the city centre, including parts of the inner relief road (Mancunian Way)

A large stretch of St Peter's Way in Bolton

Main routes into Bury town centre from south west of the town
Drivers of buses, HGVs and high-polluting cars would be charged daily to enter these zones if the scheme went ahead. The 'recommended charges' (also known as 'toxin tax') are highlighted below:

The 'vision'
Greater Manchester was in talks to secure a multi-billion pound new transport fund in early 2017 to support its '2040 vision' for transport - aimed at huge new projects such as tram-trains, tunnels, busways and Metrolink extensions.
These plans to help free up the roads hope to cut pollution and slash the cost of congestion not only to health but also to businesses (£1.3bn a year).
Logistic space
TfGM has recognised the demand for more logistic space due to the need to distribute goods from a variety of locations to stores and other premises at the lowest possible cost.
Additional space is already being made available through the planning system, with three key developments: The Logistics North development at Cutacre, Global Freight Hub at Manchester Airport City and The Port Salford development at the Barton Strategic Site. There are also ten other strategic logistics sites in Greater Manchester that are at various stages of development.
Birmingham
Clean Air Zones
Despite being mandated by the government in 2015 to set-up a Clean Air Zone, Birmingham City Council has been criticised in the press for a 'lack' of air quality plan progress. The exact location of the zone is still unknown and the types of vehicle which could be charged to enter have not yet been decided. Local authorities need to set out their initial plans by the end of March 2018, with final plans submitted by December 2018.
20mph zones
Birmingham City Council has adopted a 'Slower is safer' policy, in favour of adopting 20mph speed limits in all residential roads and local shopping centres across the city – which equates to 90% of the city's roads by length.
These zones are designed to improve road safety and make streets more attractive to pedestrians and cyclists, ease congestion and reduce pollution. Find out where these zones apply here.
Major roadworks
Highways England has carried out works on the motorway network in the Birmingham region. Repairs are currently underway on a 3km section of the M5 at Oldbury Viaduct between junctions 1 and 2. The scheme is due to finish in autumn 2018, with some minor work continuing into spring 2019.
As well as traffic management, such as contraflow system with two narrow lanes in each direction, supported by a 30mph speed limit, fleet drivers should also be aware of delays until work is completed.
Freight Strategy
West Midlands Freight Strategy and Implementation plan aims to "shine as a beacon for best practice" in urban logistics management, providing:
Improved access by road and rail

New ways of managing deliveries, providing businesses and residents with high quality access to goods and services

A range of techniques to reduce emissions, noise, and congestion caused by goods vehicles

Support for the introduction of very low emissions delivery systems
Leeds
Clean Air Zones
With over 40,000 deaths in the UK each year attributable to air pollution, it' no wonder that Leeds City Council is taking steps to introduce a Clean Air Zone by 2020.
There are concerns however, that these clean air zones could risk a construction slow-down, since many businesses rely on HGV lorries and flatbed trucks, which will be discouraged from entering zones, to deliver their products to building sites.
To aid improvements in air quality across West Yorkshire, around 500 diesel taxis and private hire vehicles are expected to be hybrid or pure electric versions by 2020. Should we expect more commercial vehicles following suit with more and more businesses being incentivised to use low-carbon vehicles?
Nearby, Sheffield city council is considering the potential for the enforcement of 'no-idling zones' in a bid to improve air quality in the city, and could fine drivers who fail to switch off their engines.
Additionally, First West Yorkshire has pledged to invest £71m to provide 284 new state-of-the art buses for its Leeds fleet by the end of 2020 as part of its bid to improve air quality. Its most recent proposals include priority measures to ease congestion and improve bus journey times on key corridors and new park-and-ride service with an express bus to the city centre. This new bus strategy should mean better reliability, faster journey times and a more integrated network connecting communities.
Nottingham
Go Ultra Low City
Nottingham is one of four UK cities (Nottingham, Bristol, Milton Keynes and London) to have received funding, a part of the Go Ultra Low City Scheme, to become exemplar cities in green technology and promote the use of plug-in vehicles.
Nottingham has taken some of the boldest steps to improve air quality, bringing in a workplace car parking levy which taxes employers that provide parking to employees. This has earned the city more than £44m in revenue since the charge began in 2012, which has been ploughed back into public transport, including an extension of its tram network. As a result, car usage has decreased and there has been a 33% reduction in carbon emissions since 2005.
On top of that, it has been stated that half of the funding (around £200k) received from the Joint Air Quality Unit, will be used to help Nottingham improve the uptake of Ultra Low emission Vehicles (ULEVs) in the local business fleets of the National Health Service and other organisations. Other strategies include more and faster electric vehicle charging points and research on alternative fuel technologies.
Nottingham City Council has also been mandated by the government to have a Clean Air Zone in place by 2020. However, details of how much non-compliant vehicles will be charged for entering the zone have not yet been released. You can keep updated with Nottingham's Clean Air Zone Project here.
Smart motorways
Smart motorways, designed to beat congestion at peak hours, use overhead signs to vary mandatory speed limits and can open up the hard shoulder to traffic at busy times. Safety is maintained by creating emergency refuge areas for any driver who breaks down.
Sections of Nottingham's highways have already been converted to smart motorways, including the section of the M1 between junctions 28 for Mansfield and 31 for Worksop. Currently work is taking place on a 7½ mile stretch of the M1 between junction 23a and junction 25, which is being upgraded in part to handle increased traffic to East Midlands Airport.
Rail freight hub
Latest figures from the Daventry Intermodal Rail Freight Terminal reveal it has removed 64 million miles of lorry journeys from UK roads in the last year alone.
The East Midlands Gateway Rail Freight Interchange was given the go ahead in 2016. Once finished (expected July 2019), it will provide up to six million sq ft of new distribution and storage buildings, and a freight terminal which would handle up to 16 trains a day.
Along with other developments planned for the region - such as HS2, the electrification of the Midland Main Line and the Smart Motorways initiative - the East Midlands Gateway will support supply chains and enable local businesses to get their products and services to market more quickly and more effectively.
Southampton
Road and rail improvements
Southampton has one of the most 'notorious' bottlenecks in the country - at rush hour, the M271 can resemble a car park. Thankfully, Highways England unveiled a £130m scheme to upgrade junction 8 of the M27 and the A3024 corridor leading into Southampton. Under the plans, junction 8 of the M27 and the Windhover Roundabout at Bursledon will be widened to allow for increased capacity for cars and improve facilities for pedestrians and cyclists.
Along a four and half mile stretch of the A3024 into Southampton, 25 junctions will be upgraded to help buses run more efficiently. Work is expected to start in March 2020.
Since substantial levels of freight and cruise passengers travel in and out of Southampton port every day on the motorway network, maintaining a well-functioning transport network is vital to the competitiveness of the port, and the continued development and success of Southampton.
Rob Humby, executive member for environment and transport at Hampshire County Council, said: "With major motorways and national routes running through the county and important rail freight links between the Midlands and the Port of Southampton – the gateway to international markets, the right investment in road and rail infrastructure is essential."
Hampshire County Council's (HCC) new 'Rail Position Statement' sets out a desire for improved journey times for passengers to and from London and Heathrow; improved freight movements to and from the Port of Southampton and better rail links in Southern and Northern Hampshire.
Future revisions of Local Transport Plan, Local Development Plan and all other Council and city plans are expected to provide suitable and adequate policies to reduce emissions and deliver cleaner air.
Clean Air Zone
Southampton city council implemented the Clean Air Zone in 2017 on a non-charging basis and will see the most polluting vehicles discouraged from entering the zone through charges.
Access restrictions and penalty charging will eventually be introduced as part of the mandatory CAZ's in 2019, as per statutory requirements. Importantly, the charges will be set at levels designed to reduce pollution, not to raise additional revenue beyond recovering the costs of the scheme. A local level air quality technical assessment is currently underway in order to determine the extent of our CAZ and which vehicles will be liable to charging, which is expected to come to light later this year.
WHAT NEXT?
In summary, by looking at the various city initiatives across the UK, it's clear that the shift towards cleaner and efficient vehicles is not a London-centric issue. It's likely that we'll see a shift in travel behaviour, with the most polluting vehicles being discouraged from entering some city centres and an increase in low-emission vehicles.
The Department for Transport (DfT) sees electric and hydrogen vehicles as the "fuel of the future" for the freight industry and is looking for ways to make freight a zero-emission industry. The long-term plans have hinted at a mixture of electric batteries and hydrogen fuel cells. Can you imagine 44-tonne trucks running on batteries? There will be big obstacles to getting electric trucks on the road, due to the size of batteries versus the height and weight restrictions HGVs have to meet in the UK, but it's certainly where the future is likely to be heading. In fact, Volvo Trucks will start selling electric trucks in 2019.
With all this in mind, the time has come for fleets of older vehicles to look at their options for upgrading to a fleet that complies with current and likely future legislation. Commercial vehicle hire is certainly becoming a more attractive option in this respect – especially as it allows you to upgrade your vehicles without major capital outlay.
There are a number of initiatives set up to address the issues affecting vehicle safety and emissions, but with evolving and new standards being introduced and new technologies on the horizon, it can be difficult to keep up with best practice.
One thing we can be sure of is that policy never stays still and there's no guarantee that future policy changes won't require further modifications to your vehicles. That's why the best approach is to stay flexible.
Our flexible hire package is more than simply providing the vehicles you need on a flexible contract. We make a difference to your business by understanding not just what you've asked for, but what you're trying to achieve. Our proactive vehicle management and maintenance offering and our dedicated account management team will give you expert advice and support to keep your business on the road. Get in touch with one of our flexible hire experts to see how we can help you.