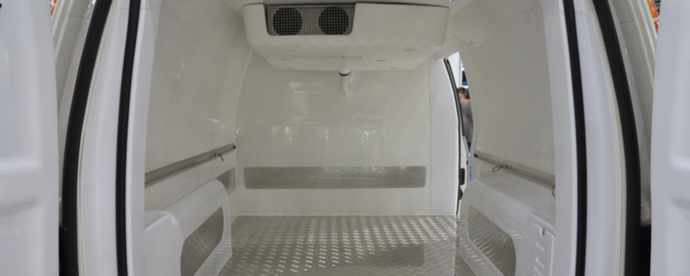 Choosing which refrigerated van to hire for your business can be tricky if you don't understand all the details – does your van need to be chilled or frozen, 3.5 or 7.5 tonne, double or triple rear door? To help you to decide, here are three very simple tips that might be helpful for businesses trying to pick perfect refrigerated vehicles.
Ice cream needs to stay cold
When ice cream melts and refreezes, small ice crystals re-form into larger ice crystals, which can give the ice cream a grainy texture. This could spell disaster for any gourmet caterers or food delivery services!
Ice cream must be stored and transported at a constant -25°C, making accurate and reliable refrigeration systems an essential. Standby on the refrigeration system is also a must in order to keep the ice cream in top condition in any location.
Delivery operations can often see multiple drops made in the same trip, in keeping with good route planning and fuel efficiency measures, so a triple rear door is another useful attribute for keeping orders separated in the vehicle's box.
Groceries are heavy
The quality of fresh food in butchers, bakers and supermarkets is all determined by temperature-controlled transport. Fruit and vegetables need different storage temperatures than meat and fish require during storage and transport to keep them fresh and safe to eat.
For fishmongers and seafood retailers, the most popular vehicles generally offer frozen temperature specifications, and are often large vehicles. While the fish themselves don't always weigh a huge amount, large quantities of heavy ice are often used for packing, making vehicle payload a very important issue.
Butchers experience a similar issue in regards to vehicle payload, as meat is very heavy. It's therefore also essential that the refrigerated body is robust. All vehicle bodies in our temperature controlled fleet are supplied by leading industry bodybuilders, and often have incorporated specialist equipment such as meat rails and tail lifts to make it easier to load and unload stock.
Pharmaceuticals are expensive
Vaccines, pharmaceuticals and other medical supplies such as blood all need to be kept at specific temperatures in order to remain viable and safe for use. Active ingredients in certain medication can be very sensitive to changing conditions, and any mistakes in storage and transport could be very expensive and potentially dangerous to public health.
We recommend high specification, dual compartment vans for pharmaceutical transportation, usually with a standby facility for the refrigeration system just in case of any emergency power cut.
Why choose us for refrigerated van hire
The accuracy of compartment temperature is critical in each of these three scenarios, and compromised refrigeration system maintenance could lead to damaged stock, unforeseen costs and disrupted business activities.
Luckily for our customers, all our temperature-controlled vehicles are brand new vehicles, fitted with the latest refrigeration equipment on the market and supplied with the manufacturers' prepaid repair and maintenance packages as standard. This significantly reduces your risk of vehicle downtime, and we have expert support teams based around the UK available to help if anything does go wrong.
All of our vehicles also come with specially designed refrigeration systems, which make significant reductions in mechanical noise and noise pollution in contrast to other temperature-controlled vans on the market. This makes Refrigerental vehicles ideal for use in busy urban environments, allowing customers to use van hire to operate noise-sensitive operations.
Find out more about the specifics of selecting the right refrigeration van for your business in our free guide 'What to look for when hiring refrigerated vehicles'.