Like it or not, Christmas is fast approaching. We haven't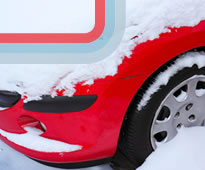 even reached November yet, but everywhere you look shops are starting to bring out their seasonal displays, gifts are being ordered and holiday plans are being made.
Each year, even the most festive-minded of us are likely to question whether the two-month lead-in period to Christmas (and it seems to get longer every year) is really necessary. Being prepared is great, of course, but would it really do any harm to wait for another few weeks before we start the seasonal cycle of planning, purchasing and perspiring?
That being said, winter car hire is one area where it really does pay to be ahead of the game. The Christmas period is notoriously busy for companies providing short term car hire services, so booking as early as possible is the only way to make sure you're not disappointed.
Car hire at Christmas
Christmas car hire is important for so many people - expats returning to the UK to visit family members, people enjoying a Christmas getaway elsewhere in Britain, those who require a vehicle for a Christmas shopping expedition.
A quick glance at statistics from the airports shows just how busy this period can be. Last year, 4.3 million passengers passed through Heathrow in December, with the majority of them travelling during the school Christmas holidays. That number should be even higher this year, as the improving economy will persuade even more people to make festive travel plans.
Christmas is the occasion when many expats choose to return to their native country. Research carried out by Santander a few years ago revealed that 13% of British people living abroad visit their family in the UK at this time of year. This may not seem like a huge percentage, but the number of Brits living overseas was recently estimated at more than 4.7 million.
As the major roads become clogged with traffic at Christmas and winter weather makes driving conditions more challenging at this time of year, it's particularly important to ensure you get the right vehicle for your needs. Again, making early arrangements is the only way this can be guaranteed.
Flexible and affordable
At Burnt Tree, we've got it covered when it comes to Christmas car hire. With a branch at Heathrow, plus locations close to other major airports like Birmingham, Manchester and Leeds Bradford, we'll be providing many festive travellers with the short term lease car they need.
We know that Christmas is expensive for everyone, and it can be easy to let the costs spiral out of control. Last year, Which? predicted UK households would spend a total of £797 million on Christmas (£835 for the average household).
That's why our car hire deals come with no hidden costs or unexpected charges. You pay the price we quote, and not a penny more. Our daily rental prices start from just £25 for a small car and £55 for a large estate car. If you need a vehicle for a longer period, we have a range of flexible rental deals that could help you save a lot of money.
A few other reasons to choose Burnt Tree for car hire this winter:
Branches across England, Scotland and Wales

Brand new vehicles and the latest models

24/7/365 breakdown and recovery service

Knowledgeable and dedicated staff