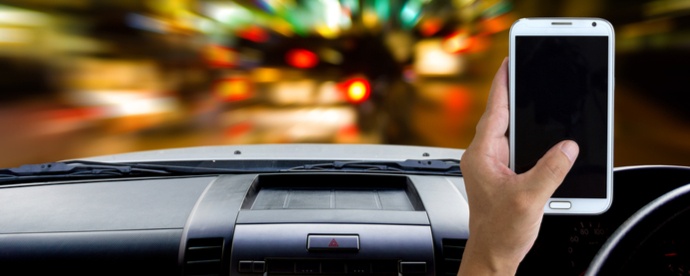 Mobile phone usage at the wheel is alleged to be just as dangerous as drink-driving. So the report in Fleet News that the number of fixed penalty notices issued for mobile phone use at the wheel have decreased by approximately a third from the previous year is welcoming news.
There is no room for complacency, however. Delve a little deeper and the figures should be enough to strike fear into the hearts of every manager. We outline the further statistics you need to be aware of and why a firm mobile phone policy, along with fleet management software, can help.
The widespread prevalence of mobile phone use whilst driving
In a recent survey by RAC, A worrying 1 in 5 (19%) of businesses surveyed revealed that their employees have been involved in an accident while driving for work due to using a handheld mobile phone at the wheel. 15% said that this happened 'often' and 5% said that this happened 'regularly'.
Drivers caught using a handheld phone will automatically get six points on their licence and a £200 fine. If their behaviour caused an accident though, they could face an indefinite driving ban - or, even worse, prison.
Meanwhile, companies can have their license to operate revoked or face an unlimited fine - and even face criminal prosecution under the Corporate Manslaughter and Corporate Homicide Act 2007. And since the new Sentencing Guidelines have come into force, there has been an 80% rise in the level of fines issued, according to SHP Online.
Fleet management complacency for mobile phone use
With such worrying statistics and consequences, it should be a pressing management issue for most fleets. However, as reported in Fleet News, a recent survey carried out by Brake revealed:
Only 71% of those surveyed have implemented policies attempting to prevent in-vehicle driver distractions.

However, more than a quarter (26%) do not offer any drive education/awareness sessions online or in person on preventing distractions whilst driving.

Of the respondents who do have driver distraction policies, the use of hands free restrictions is included in just 32% of them.
What you can do
As Ross Moorlock, business development manager for Brake, was reported to have said in response to their survey findings:
"Our survey shows many fleet managers are still not doing enough to prevent driver distraction.
"While many are aware of the risks of distraction, this needs to be better reflected in company policy, as well as through the introduction of best practice initiatives, evidenced based interventions, effective driver education and data monitoring."
It is also imperative that you don't just 'go through the motions'. Instead, you should examine what can be done by management to help drivers be less likely to use their phones at the wheel. Simply ensuring that office-based staff don't call your drivers whilst out on the road will help, but you may need to dig a little deeper to ensure that your drivers do not feel time-pressured to respond to calls/emails whilst on their phones.
How fleet management software can help
Strong data is always the key to great management, as it allows you to identify trends across key areas of performance, enabling you to drill down to the root cause of problems, be that the individual drivers or the organisation as a whole. Fleet management software data usually includes:
fuel efficiency

speeding

incidences of harsh steering and braking
Apple recently launched a 'do not disturb whilst driving mode' as part of its IOS 11 update, with Brake campaigning for Microsoft an Android to follow suit. However, these features can be turned off.
The future of driving is certainly mobile free: the Department for Transport is considering a new technology that will automatically disable any mobile phone function that requires internet access or a network connection.
Whilst it may take a while for the technology to catch up, it is clear that the winners in road safety will be those with a firm mobile phone policy and the fleet management software and technologies to assist them.
For more guidance on how to meet workplace road safety requirements, check out our free guide: