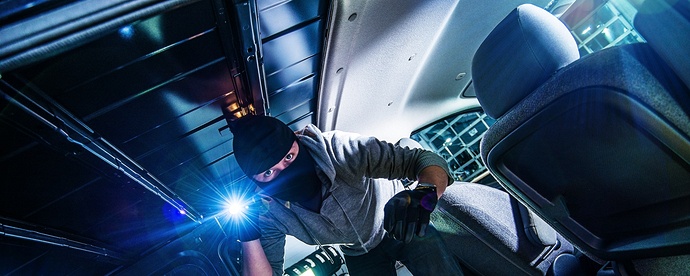 Only 40 years ago, any thief with a bent coat hanger and a bit of basic know-how could gain access to almost any vehicle, use a couple of wires to bypass the ignition and be on their way in under a couple of minutes.
Since those days, security has improved by leaps and bounds, with features such as radio controlled central locking coming as standard on modern vehicles. On the plus side, this has meant that vehicle theft in general has dropped significantly – last year The Daily Telegraph reported that vehicle thefts had dropped to a 48-year low, with only 69,547 thefts compared to nearly 307,000 as recently as 2002.
If you thought this was reason enough not to bother with additional van security, you might want to think again. As general vehicle security has improved, thieves have become more sophisticated and an upsurge of criminal gangs now steal LCVs to order for export or the sale of parts, with some being taken within minutes of being delivered as new.
When you dip back into the stats, you discover that in 2016 only 38% of stolen LCVs were recovered and restored to their owners. When it comes to the market leading (and most frequently stolen) Ford Transit, the figure drops to only 33%.
So, if you rely on vans for your business, you need to be on your guard against the criminals. Every LCV that is stolen from you costs money in terms of lost usage time, dealing with red tape and sourcing a replacement. These are our top tips for improving van security and staying one step ahead of the thieves.
---
Free Download:
---

Get advice from security experts
There is a blossoming aftermarket in LCV security in the UK. Part of the reason for this is that monopoly laws mean manufacturers are not legally allowed to make certain devices, notably a vehicle's OBD (On-board Diagnostics) port, so secure that only authorised dealers can access them. This leaves them vulnerable to thieves who can use them to start the vehicle. Another reason is that some vehicles leave the production line with security flaws that are only later discovered.
For example, good LCV security experts will be able to tell you exactly which security flaws any given van has. We don't want to give details away to would-be thieves, but some current models have insecure exterior lights or windows that make it easy to disable central locking systems or gain access to the vehicle's ECU (Electronic Control Unit) and thus bypass security software.
Talking to a good security expert, or a major van leasing firm with expertise in LCV security, is the best first step. They can advise you on choosing models of LCV that are as secure as possible – or finding out how to upgrade the security of your current fleet.
Look at LCV theft statistics
Again, whether you are replacing vehicles or wish to make your current ones more secure, it's a good idea to see which models are top of the thieves' hit lists. For some time now, the Ford Transit has been the most stolen LCV, followed by the Mercedes Sprinter – indeed, these were the two most stolen vehicles in London between 2012 and 2014.
However, you shouldn't rule out these vans just because they are the most stolen – but you need to be prepared to make them secure.
Learn how thieves operate
Once you know the technology that thieves use to gain access to and steal LCVs, you'll have a clearer idea of how to upgrade your security systems to beat them. The days of stealing vans with a length of coat hanger have long gone, and techniques by thieves now include the following:
Lock picks – lock picks designed to open factory standard LCV locks are cheaply and freely available via the internet, along with instruction videos that make it easy for amateur thieves to get their hands on the tools and techniques needed to steal your vans.
Lock jammers – thieves watch for drivers to get out of their van and use their remote control key fob to lock their vehicles. Before this happens, they deploy a lock jammer that stops the key fob signal from locking the van. The criminals can then simply open your unlocked doors and help themselves.
OBD re-programmers – once inside the van, a thief can plug a laptop or code reader device into its On-board Diagnostics port and clone your wireless key. They can do this and drive off in less time than it takes to buy a newspaper.
Brute force – some vans have design flaws or relatively thin panels that make brute force an option for criminals. Factory fitted locks can be broken open using crowbars and locks can sometimes be cut out with something as simple as an old-fashioned tin opener. Similarly, catalytic converters under vans can often be cut out in minutes and disposed of for a lucrative price on the spare parts market.
Add aftermarket security to your LCVs
Once you know what the security weak spots of your LCVs are, you need to obtain the most appropriate vehicle security devices. There are many on the market, but always ensure you source high quality items from accredited security experts. Devices include:
Slamlocks – which automatically lock your door when you slam it shut.
Deadlocks – which bolt doors to the opposing body section. They are hard to force open as they have no spring mechanism.
High visibility locks – ideally made of high security steel and with angled bodies to deflect hammer blows, these send a clear message to thieves that you are taking security seriously.
Steel plate protection – these encase your existing or aftermarket vehicle locks in tough steel to prevent them being forced or cut out.
OBD protectors – these secure the ODB port on your vans, ensuring they can't be used to clone electronic keys.
Catalytic converter security devices – rugged fittings to stop thieves taking your valuable catalytic converters.
GPS systems – to track vehicles if they are stolen.
Of course, the major issue with getting your LCV security exactly right is cost – it's not cheap to fully upgrade each vehicle. However, the cost of losing your vans is likely to be much higher.
So before you spend any money, be sure to talk to a security expert. And if you hire your vehicles, or plan to do so, speak to your hire company about whether additional security features can be incorporated into your fleet as part of your monthly lease package. It's a service we offer our Flex-E-Rent flexible hire customers, and it not only keeps their fleet much safer, it means there are no up-front capital costs to dent their cash flow.
For more tips on how to protect you business, we're offering our readers a complimentary guide: 'How to protect your business from van theft'. Simply download your free copy below.