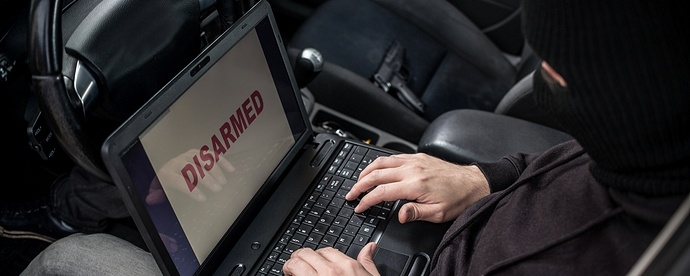 The good news for van fleet owners is that vehicle theft is decreasing year-on-year. The crime stats released by the Home Office in January this year, 'Reducing Criminal Opportunity – Vehicle Security and Vehicle Crime' paint a positive picture of the downturn of vehicle theft over the years. Whereas vehicle security measures were not the only contributing factor, they were certainly one area which appears to have played a part in reducing vehicle theft opportunities.
The bad news for van fleet owners is that thieves are finding more sophisticated ways to bypass the latest van security devices: keyless vehicle theft and "pinch and park".
We take a look at the latest van security threats and the measures you can take as a van fleet owner to deal with them.
Keyless van theft – in under 30 seconds
The introduction of the immobiliser system was highlighted in the Home Office report as being a likely contributing factor towards the reduction in vehicle theft. Immobilisers are electronic security devices that prevent a vehicle's engine running unless the correct key is used, which prevents the classic "hot wiring" tactic seen in old films.
However, thieves have now discovered a way to clone the key fob, allowing them to bypass the immobiliser system and to start the vehicle – all with cheap products ordered from overseas and readily available "how-to" YouTube videos.
According to The Metropolitan Police organised crime is largely responsible for keyless vehicle thefts , "with crime groups planning which vehicles they are going to steal, meticulously breaking them into parts which are then exported abroad."
How to guard against keyless theft
Certain makes and models are more vulnerable than others. However, you can protect yourself with an OBD / ECU protection device for around £120 supplied and fitted. This encloses the OBD / ECU socket within a secure box, which attaches to the crash bar behind the dash board and can only be opened with the correct key.
Pinch and Park
Organised gangs have become wise to the more prevalent use of GPS trackers. The Home Office report warned of another trend, whereby thieves will "steal the vehicle and park it somewhere for a few days. If it's not been traced by then, they assume that it hasn't been fitted with a GPS tracker and so continue with their theft operation."
How to guard against "pinch and park"
Whilst installing GPS trackers may be seen as a way around this problem, the report acknowledged the increasing use of signal jammers and concealment devices.
Whilst these theft tactics may work against many GPS tracking devices, you can now install modern devices that have been designed to overcome these newer methods of vehicle theft.
Thieves are coming up with ever more innovative ways to steal vehicles but there are simple steps you can take to ensure that your van fleet stays on the road. We strongly recommend that fleet managers ensure that their van security products are independently tested and endorsed by the Thatcham Motor Insurance Repair Research Centre or by Sold Secure to ensure that they have the maximum level of protection.
For more advice on the top ways to stop van thieves in their tracks and how SMEs can guard against security risks with low upfront costs, download our guide:
.