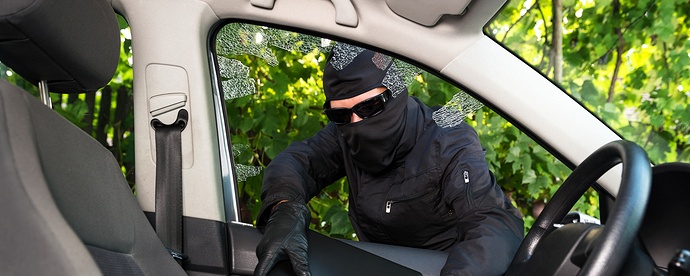 It can be hard to keep up with the new lengths that thieves will go to to bypass car and van security. Gone in 60 Seconds may have been used to paint a vivid picture but the reality is, in fact, worse: thieves are now able to drive off in stolen vehicles in under 30 seconds with keyless technology bought for under £30. It may sound unbelievable but you can always rely on The Daily Mail to share the shocking footage.
Your vans – or their contents - may be stolen in the time it takes your delivery drivers to ask for a signature, but many business owners fail to realise the full consequences of van theft.
We break down how common van theft costs add up, and set out what you can do to prevent them.
The loss of vehicle itself
This is the loss that most business owners understandably think of when it comes to issues of van security. Fleet News reported that the average recovery rate of vehicles is just 49.6% and the average used price of a business vehicle is £9,455.
However, there are three aspects that some business owners may fail to account for:
Is your replacement vehicle like-for-like?
With a commercial fleet you will often require modifications or specialist vehicles. Unfortunately, some commercial insurers will offer a "suitable replacement vehicle" that is far from ideal. It's often a standard panel van – if you need a replacement vehicle, will this suffice? If not, make sure you investigate your insurance cover thoroughly.
> Most insurance offers leave business owners out-of-pocket
Your insurer should offer you the market value of the van at the time it was stolen. No doubt you are all too aware that the "market value" often has to be negotiated by providing evidence of online second-hand vehicle prices and market rates provided by the likes of Parkers.
Even in the event that you finally negotiate a decent market value rate, it could still be a lot less than you paid for it, and potentially a lot less than the amount you have left to pay on any finance deal. That is why some insurers, such as Go Compare, recommend Guaranteed Asset Protection (Gap) insurance cover in recognition of this common problem.
> How soon will you be provided with your replacement vehicle?
It is important that you check how soon – and from where – you can collect your replacement vehicle under your insurance plan or vehicle hire contract. If you can arrange to have the vehicle delivered, this will minimise the impact to your business through lost time.
> Your driver's wages

If you don't have a suitable replacement vehicle for your driver, you are looking at a whole day's wasted wages, something most businesses can't afford - whether that be your driver making the most of his time off, or having to pick up a vehicle from the nearest depot.
Penalties for breach of contract and lost profit arising out of non-completion of contract
If you end up losing a vehicle for a day – or half a day – whilst you await its replacement, you need to consider your contractual position.
Many supply chain contracts will be governed by SLAs, with strict penalties for breach of contract arising from non-conformance. If you are lucky enough to escape such penalties, then will you be able to catch up, or will that day's business have been covered elsewhere?
Loss of equipment and goods
Loss of vehicle contents is a major cost for commercial fleets. Your insurance may cover such theft, but often the contents are needed in order to fulfil your contracts (as well as many content claims being subject to excess).
If the loss of your vehicle contents would seriously impact your business, it is worthwhile installing deadlocks. These are manually operated cab and load area door locks which stay locked in the event of a break-in, protecting valuable contents.
Loss of business reputation
It is hard to put a price on the cost to business reputation that can arise from breaches to your van security. A one-off let-down in a long-standing relationship may not be that detrimental, but the situation gets a lot more problematic if you have just won a contract or van security breaches keep happening.
For more advice on the top 5 ways to stop van thieves in their tracks and how SMEs can guard against security risks with low upfront costs, download our guide: