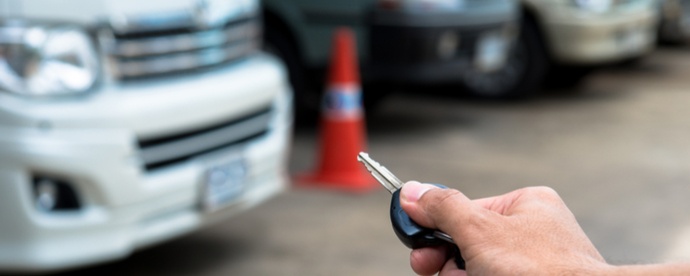 47,000 commercial vehicles are stolen each year, costing £152 million in lost assets - excluding loss of turnover and extra operating costs (source: Police Crime Survey).
When a vehicle is stolen, it hits your productivity hard. Particularly for SMEs, a loss of vehicles could mean struggling to serve customers - and that can damage reputation and drive away future business.
The true impact of vehicle downtime is often underestimated by businesses. Research by Ford Retail revealed that many SMEs lose up to £30,000 a year as a direct result of downtime. Some fleet managers may need to rethink how they deal with this issue. That's why we've compiled a list of things that contribute to calculating the real cost of vehicle downtime, so you can be prepared should the unfortunate ever happen.
Calculating the costs
Replacing vehicles: Finding the budget to replace fleet vehicles can be difficult, especially for smaller businesses. In order to save money, fleet managers are keeping their vehicles for longer, choosing to hold off from purchasing newer models. But when a vehicle is stolen you have no option but to replace it.
Vehicle downtime and replacements costs, even if insured, can be significant. It's not just the price of a new van to take in consideration, but also the potential loss of goods inside and how this affects business.
Impact on productivity: When fleet vehicles are off the road, businesses typically lose £500 a day, according to RAC. However, this cost isn't just the result of vehicle replacements.
Fleet management is often dictated by targets and deadlines. When a vehicle is off the road, drivers can struggle to meet deadlines and ensure on-time delivery of products. Ultimately, being out of action can have a significant impact on the cash flow of a business.The industry is increasingly reliant on regular, timely deliveries, failure to deliver or late delivery can have costly knock-on effects on production and to the availability of goods, and can damage customer relationships.
Loss of business: It's hard to put a price on the cost to business reputation that can arise from breaches to your van security. A one-off let-down in a long-standing relationship may not be that detrimental, but the situation gets a lot more problematic if you have just won a contract or van security breaches keep happening.
If you end up losing a vehicle for a day – or even half a day – whilst you await its replacement, you need to consider your contractual position. Many supply chain contracts will be governed by SLAs, with strict penalties for breach of contract arising from non-conformance. Even if you are lucky enough to escape such penalties, you may not be able to catch up, or that day's business may have to be covered elsewhere.
Preventing van theft
Many businesses miscalculate the true cost of vehicle downtime because they don't take into consideration the knock-on effects it has on fleet management. Hopefully you'll now have a clearer understanding of what these costs are but remember, the best way to keep these costs down is to be vigilant and do what you can to prevent van theft.
Find out the top five ways to stop van thieves in their tracks and how SMEs can guard themselves against security risks with low upfront costs by downloading our free van security eBook: