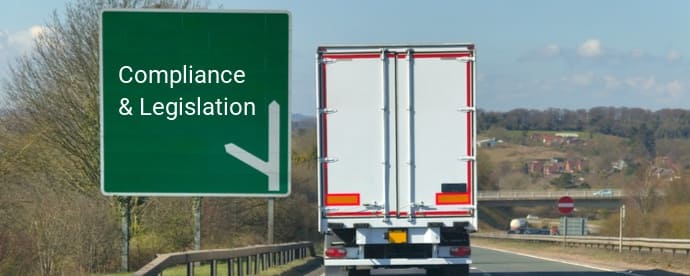 HGV compliance is far more complicated than car or van compliance – so what do you need to know to keep your business fleet on the road?
In this blog, we take a look at two biggest costs for HGV operators in the UK, and identify ways you can not only reduce cost, but ensure your fleet meets the necessary health, safety and performance standards.
HGV legislation
In April 2014, the UK Government introduced a road user levy for heavy goods vehicles weighing over 12 tonnes or more, ensuring that business fleets contribute to the cost of road repairs across the national road network. Natural wear and tear can loosen road surfaces, creating uneven surfaces and potholes, and the heavier the vehicle the bigger the effect.
From April 2014, UK registered vehicles must pay levy costs at the same time as vehicle excise duty (VED), while vehicles registered abroad must make levy payments before entering the UK. Thanks to the HGV levy, foreign-registered HGVs operating in the UK now contribute to the upkeep of the national road network, and the UK fleet industry is no longer at a financial disadvantage. (UK HGVs are already required to pay levies to drive in other European countries)
As of June 2015, foreign truck drivers have paid over £46.5 million for 1.9 million levies. Roadside checks by DVSA enforcement have found a 95% levy compliance level for foreign-registered lorries, while £900,000 has been raised in fines from those who haven't bought a levy, reports Motoring Research.
More recently, Roads Minister announced changes to the HGV levy so that from February 2019 haulage firms will benefit from a cheaper road user levy if they use less polluting lorries.

The newest lorries generate 80% less nitrogen oxide (NOx) emissions than older ones, so lorries meeting the latest Euro VI emissions standards will be eligible for a 10% reduction in the cost of the Heavy Goods Vehicle (HGV) levy. So it's worth looking at retrofitting or acquiring newer, compliant vehicles since Euro Class V and older vehicles will be expected to pay 20% more.
HGV compliance
When it comes to ensuring the roadworthiness of a HGV, there are two types of essential assessments – daily walk around checks and regular vehicle safety inspections (which should not be confused with maintenance services!)
The daily walk around check consists of a comprehensive list of vehicle parts which need testing before the HGV leaves the parking bay. Electrical connections, brake lines and trailer coupling must be secure, reflectors, windows and number plates must be clean, and the horn and lights must be working, to name just a few steps in the process.
Vehicle inspections should be carried out on a regular basis, with the interval between inspections determined by the age, condition and mileage of the vehicle and trailer. The Driver and Vehicle Standards Agency (DVSA) recommends that vehicles that have been out of service for some time should always be inspected before they are first used, and that vehicles and trailers aged 12 years or older should have a maximum interval of 6 weeks between safety inspections.
If you manage a HGV fleet, you must comply with strict regulations. Drivers and vehicles must be monitored closely to ensure that your fleet meets health, safety and performance standards.
That's why we've writte 'A simple guide to HGV fleet risk management' to help you discover your responsibility as an employer, and the associated risks and costs. Download our free guide below to find out how to cut costs and achieve vehicle compliance.

Editor's note: this article was originally published in October 2014 and has since been updated for accuracy and relevance