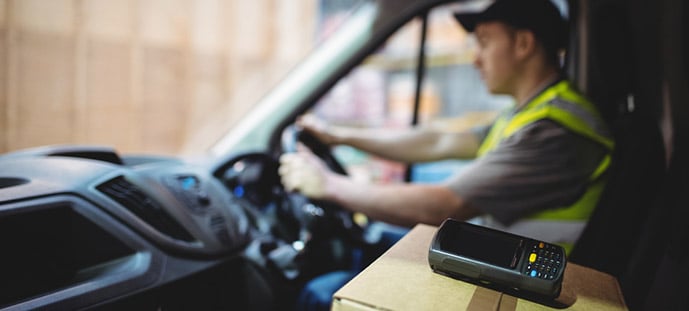 The rise of ecommerce in the UK shows no sign of slowing down any time soon. In 2015 approximately 43 million Brits shopped online, buying around £140 billion worth of goods—and this figure was expected to increase by another 11% in 2016 to break the £150 billion mark.
This should be good news for commercial fleets involved in last mile deliveries. However, increased workloads with tightening restrictions mean that logistics firms need to work smarter to stay competitive. This means issues like retiming deliveries need to be carefully considered in order to operate as efficiently as possible.
The last mile delivery challenge
Environmental concerns are a key part of the last mile delivery challenge. With the European Environment Agency stating that up to 75,000 people die in Europe each year because of NOX emissions, it follows that strict targets have been put in place to reduce emissions significantly over the next few years.
It has been suggested that urban transport is responsible for up to a quarter of carbon emissions, so reducing the impact of last mile deliveries will be a key concern of those in the fleet management industry.
The increase of ecommerce also means a statistically greater chance of failed deliveries when the customer isn't in—and therefore the need for more redeliveries—which puts even more strain on the logistics firm, as well as adding to the congestion and pollution in these urban environments.
The benefits of retiming deliveries
'Retiming' is essentially all about working with customers and suppliers to avoid those peak traffic times for deliveries or collections. Aside from the obvious benefits of avoiding congestion, there are a number of other benefits for businesses: minimising the risk of collision with the higher frequency of cyclists and pedestrians travelling during peak times; contributing to improving air quality; and maintaining a more efficient operation, which ultimately helps to save money.
There are issues to consider, such as increased noise and disturbance outside of normal working hours that could impact on local communities and residents, plus potential restrictions imposed by legal planning conditions on deliveries and collections to premises. However, following a code of practice, such as the one Transport for London have had in place since the 2012 Olympics, can help mitigate the impact as much as possible.
In-vehicle technology could also help
Technology is already set to play a big part in improving the efficiency of the last mile delivery, especially when it comes to overcoming environmental challenges. The proposed Ultra-Low Emission Zones and Clean Air Zones in London and Manchester respectively have already led to logistics companies like Hermes taking advantage of new electric vehicle technology to reduce their carbon output. However, there are also ways to use technology to ensure a 'right first time' last mile delivery, which will also help reduce excessive environmental impact from re-deliveries.
For example, in-vehicle telematics systems can help logistics companies keep better track of deliveries and drivers, ensuring parcels are delivered in the out-of-hours timeframes that customers have agreed (and are within the bounds of legal planning conditions) and thus increasing the likelihood they are in to collect. Companies like DPD take this a stage further, giving its customers insight into the delivery process by offering a real-time view of their driver via GPS tracking on their website or app. This transparent service presents customers who have ordered a package a far more specific timeframe for delivery than most, which again means they are more likely to be in when the driver arrives.
Smart logistics firms are already taking advantage of retiming and the latest in-vehicle technology to lead the last mile delivery market niche. Contact one of our experts to find out more.