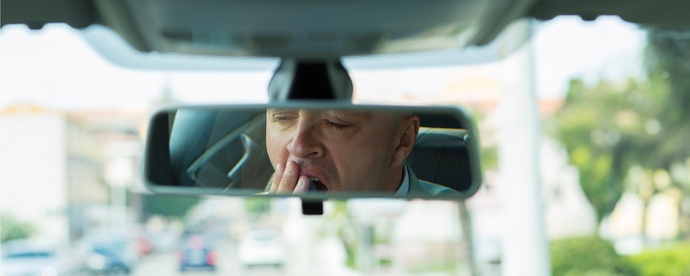 Fatigue driving can be just as deadly as drink driving. In fact, Brake reports that 1 in 6 accidents are caused by fatigue and that about 40% of these crashes involve commercial vehicles. Addressing fatigue concerns as part of your work related road risk (WRRR) policy is therefore critical if you wish to avoid the devastating personal and business consequences that can arise if your drivers are not alert at the wheel.
Resisting the urge to yawn
A worrying issue for many businesses warns Commercial Fleet is that drivers tend to fight tiredness at the wheel. Despite increasing research such as that conducted by Brake suggesting that tiredness can be just as lethal as drink driving, many drivers are unaware of or underestimate the effect that tiredness can have on their driving ability.
"Tiredness at the wheel kills. Driving a vehicle is a huge responsibility that must be taken seriously", warns Brake's campaign director Julie Townsend.
It is therefore imperative that any WRRR policy educates your drivers effectively on how tiredness can result in longer reaction times and a reduced attention span and overall ability to control their vehicle.
Preventing tiredness
ROSPA has published advice that provides simple steps that drivers can take to prevent and deal with fatigue:
Do not begin a journey if you are tired and ensure that you get adequate sleep the night before a long journey.

Avoid long journeys between midnight and 6am, when natural alertness is at its lowest.

Ensure that you have planned for sufficient brakes in your journey. It is recommended that drivers take a minimum 15 minute break every two hours.

If tiredness does set in, stop somewhere safe, take drinks containing caffeine) and, where possible, take a quick 15 to 20 minute power nap.
Work factors that contribute to WRRR
Of course, the above steps are not always possible for professional drivers and the RSSB in association with Think has identified key risk factors that can contribute to WRRR in their report, Driving for work: Managing fatigue risks 'A guide for road vehicle drivers and their managers' which include:
Delivery times, shift work and rota planning (which may impact on both the body clock or reduce the opportunity for sleep and recovery in-between shifts)

Length of working day (including travel time)

Inadequate rest breaks

Monotonous journeys or bad road or weather conditions

Company culture (e.g. if time pressures are likely to encourage drivers to not take breaks when needed)

Vehicle engineering and ergonomic design
Companies should also be aware of individual risk factors, such as whether someone is a 'morning lark' or a 'night owl', or if they have medical or health issues that may affect their ability to stay alert for long periods.
Your legal responsibility
As an employer, you have a responsibility under the Health and Safety at Work Act to reduce work related road risk which states that: "health and safety law applies to on-the-road work activities as to all work activities and the risks should be effectively managed within a health and safety system."
By law, you must ensure that you provide your drivers with sufficient downtime, with a minimum of seven to eight consecutive hours of sleep in a 24 hour period. However, as the above risk factors demonstrate, there is much more that can be done to identify and deal with risks. Think and RSSB recommend a number of steps that employers should take, which include:
Implementing a fatigue policy

Providing driver awareness training

Ensuring that overnight hotels or alternative accommodation is provided

Ensuring that fatigue related accidents and near-misses are reported and lessons are learned from these
Find out more about the importance of implementing an effective WRRR reduction strategy and the consequences of failing to do so with our guide to improving fleet compliance: