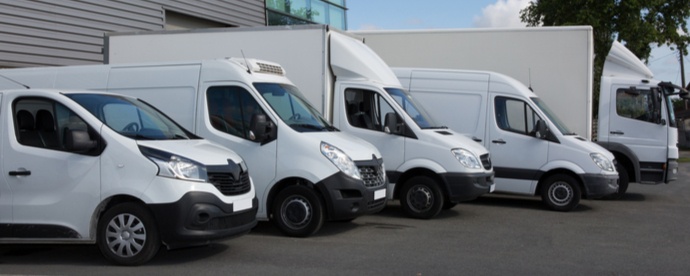 Whether you've just started out or have plans to scale up your business, if your organisation relies on vehicles then future-proofing your business fleet needs is a vital part of any roadmap to success.
From predicting how many vehicles your business needs, to knowing which technologies will really provide you with a competitive advantage and how to keep on the right side of the law, is it any wonder some business owners go into a tailspin when it comes to forecasting their needs?
We outline the main issues you need to consider in order to future-proof your business.
Determine how many vehicles your business will need in the future
This can be one of the toughest decisions to make. If you underestimate your business fleet needs, then you run the risk of being unable to service your customers and losing repeat business and referrals. Yet overestimating your needs (whether accidentally or by 'playing it safe'), means you risk vehicles sitting idle at a considerable cost to your business.
Here are some questions to ask to help determine your fleet needs:
What does our historical information tell us? Are there any steady patterns? Do they vary predictably by season? Or are the fluctuating demands and periods of growth hard to predict?
Are you in a comfortable and established market position or are you a new entrant/looking to expand rapidly?
How does the current economic uncertainty affect your business?
Discover more on which option is right for you with our free Hire or Buy guide:
Emissions standards and road safety: how does the changing legislation affect me?
Business owners and managers often wear many hats, so keeping abreast of changing regulations and how they affect your business fleet can be tough. We've therefore outlined the most pertinent issues affecting SMEs in the following resources:
As our infographic shows, emissions and road safety standards are becoming ever-more stringent. By 2020, diesel cars older than 5 years old will no longer meet the new emissions limits. And the Safer Lorry Scheme is to be supplemented by the more rigorous Direct Vision Standard, as the safety of vulnerable road users becomes an increasing public priority - meaning a complete overhaul to the design of HGVs.
As our next section shows, it seems only a matter of time before we will be subject to more compulsory vehicle safety requirements.
The new technologies even small business fleets should focus on
Electric vehicles and driverless cars may be dominating the headlines, but are too cost prohibitive for most SMEs. So what should you focus on?
Studies estimate that mandatory ISA for cars would reduce fatal accidents by up to 50%.
These are the technologies that the European Transport Safety Council (ETSC) are campaigning to be fitted as standard:
Intelligent Speed Assistance (ISA)

. ISA not only communicates to drivers the speed limit on any road, but can provide a non-override speed limit on vehicles.

Alcohol interlocks.

Drivers must take a breath test in order to drive the vehicle, which is linked to the ignition system.

Telematics.

Enables management to monitor speeding, compliance issues such as vehicle checks, driving style and location. This can then help inform driver training/education needs, as well as collision investigations.

Second-generation Advanced Emergency Braking Systems (AEBS)

. Whereas AEBS to avoid front-to-rear collisions is now mandatory for commercial vehicles, the latest AEBS can now detect pedestrians and cyclists.

Lane keep assistance.

This helps drivers stay in their lane or on the road. If they start to veer out of their lane then it will activate and help steer them back into the lane / onto the road.

Seat belt reminders.

The latest models include both visual and auditory reminders for all occupants that have not put their seat belt on.
Keeping your vehicles up-to-speed in the changing landscape is tough. Since the standards have evolved, we've seen an increasing number of businesses turning to flexible vehicle hire in order to avoid the upfront costs of purchasing compliant vehicles or adapting existing ones.
Find out more about vehicle hire can help you stay on the road at all times, maximise your year-round efficiency and minimise your financial risks by downloading our free 'Hire or Buy?' guide below.