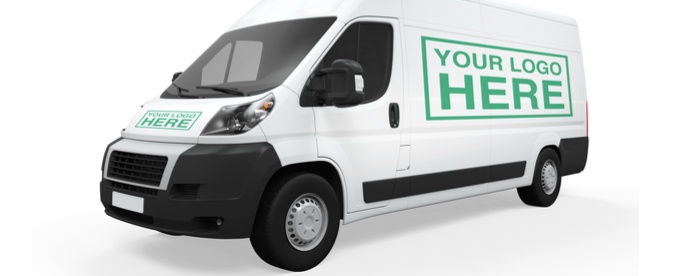 A strong brand brings numerous benefits to a business. From increased market share and revenues, to customer loyalty and attracting the best talent, its importance cannot be overestimated.
When looking for vans for your fleet, you'll likely be picturing a white van with the company's logo and telephone number splashed over it. Yet your brand is about much more than your company logo. We explore what makes a good brand and how this translates to your decision to buy old or new vans, or opt for fleet hire over a capital purchase.
What makes a good brand?
Marketing firm founder Jason DeMers outlines in Forbes Magazine "The Top 7 Characteristics of Successful Brands":
1. audience knowledge

2. uniqueness

3. passion

4. consistency

5. competitiveness

6. exposure

7. leadership
How does this translate into your van fleet?
Audience knowledge
Make it your mission to understand what your target customers truly value from the service your fleet can provide. It could be fast delivery or service, flexibility or free/low cost delivery. Or in B2B markets, following safety and efficiency frameworks such as FORS or CLOCS may be key.
Uniqueness
Apple is renowned for its innovative technologies, whilst Amazon Prime has become synonymous with speedy deliveries at a decent price.
For your fleet, brand uniqueness could be defined by values such as safety-first, environmentally friendly, punctual and reliable, or transparent. If so, you may need the latest vehicles or in-vehicle technologies to assist.
Passion
Help your drivers deliver an infectious enthusiasm to your customers by keeping them happy on the road. Ask them what vehicle or technological features would be top of their wish list. In our experience, it's likely to be:
driver comfort features

advanced safety features

software solutions that make it easier to hit targets, such as delivery schedules and fuel efficiency
Consistency
Nobody wants to do business with someone they can't rely on. How will your vehicle choices impact on your ability to be where you're supposed to be, when you're supposed to be there?
Second-hand vehicles will generally need more servicing than new ones. And it is worth considering that hire vehicles can come with maintenance cover that ensures your business is protected from costly repairs and that your vehicles are repaired quickly on the roadside - or are replaced swiftly if this is not possible.
Competitiveness
In-vehicle technology and the regulatory safety and emissions landscape is rapidly changing, making it difficult for smaller businesses to keep up-to-speed.
Fleet hire is therefore becoming a much more popular option in the current landscape, as businesses look to access the latest vehicle models and automotive technologies and run an efficient and safe fleet, without breaking the bank.
Exposure
Exposure is what brings brand awareness. For smaller businesses, social media advertising and word of mouth recommendations (whether in person or via local social media groups) can be a cost-effective solutions. Another vital tool is vehicle branding. In heavy traffic areas such as central London, vehicles can be viewed by as many as 3,000 potential customers an hour, as reported in The Guardian.
However, be warned: first impressions count. Whilst your logo and the messaging is important, so too is the condition of your vehicle. For businesses wishing to project a professional image without the upfront capital and ongoing maintenance, fleet hire can be the perfect solution.
Leadership
Motivation, vision and passion are some of the qualities related to good leadership. In small businesses, it is usually the owner who steers the ship. And if they are juggling too many hats then it can be hard to concentrate on the things that truly matter.
It therefore makes sense to weigh up the cost-benefit ratio of doing everything yourself. Should you take on the fleet management of your vehicles - and all the admin and compliance that brings - or would an vehicle hire company that provides fleet management be a better option?
Branding is just one of the many issues to consider when deciding to hire or buy your vans. That's why we've put together an at-a-glance-guide to the advantages and disadvantages of each: