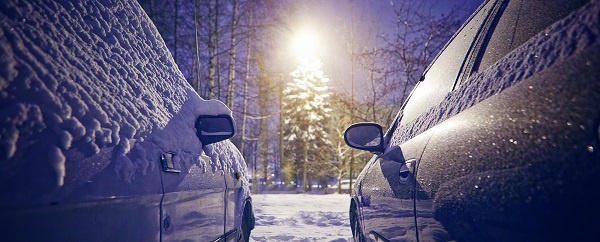 Now the clocks have gone back, winter is well and truly setting in, and the rules for fleet safety are changing with the weather. Make sure your vehicles and drivers are well-prepared with these winter driving tips…
Don't go bump in the dark
Maintaining clear vision should be the first and most important winter road safety rule for drivers. Road casualty statistics from the Department of Transport show that 40% of collisions occur during hours of darkness, so as the nights become darker and longer, it's essential that vehicle lights are functioning properly.
The Highway Code states that vehicle owners must keep lights, indicators, reflectors, number plates and windows clean and free from obstructions to vision. Lights must also be properly adjusted to prevent dazzling other road users.
Not only is it harder to see other cars while driving at night – it can also be tricky to spot pedestrians, animals and ice on the road! Drivers should be vigilant for anything that could endanger their vehicle.
Be careful of floods, snow and ice
Recent winters have seen British drivers brave all types of extreme weather, from floods and rain to ice and snow. These conditions are all potentially dangerous for road users, so fleet drivers need to take caution while driving this winter.
The Met Office claims that last winter was the wettest since UK records began in 1910, and flood-related claims for fleet vehicles increased by 250% compared to last year's winter period, according to accident management company FMG. Figures suggest that the floods caused around £2.5 million of damage to fleets, at an estimated cost of £4,500 per incident.
Drivers should avoid driving through flood water at all costs, and exercise caution when driving on snow or ice.
Slow down
Speed is an important factor in road accidents. A vehicle's speed determines whether the driver can stop in time, and how hard the impact is if they can't stop. In fact, road safety charity Brake estimate that for every 1mph reduction in speed, crash rates fall by an average of 5%.
Stopping distances double on wet roads and increase tenfold in icy conditions, so be sure to leave more space than usual between vehicles while driving in extreme weather conditions.
Prepare, prepare, prepare
Sensible driving behaviours are vital for fleet safety this winter, but fleet managers need to make sure their vehicles are kept in top condition too! Vehicle safety inspections play an important role in staying safe on the road.
According to the Highway Code, drivers should check tyre pressure weekly before using the vehicle, when the tyres are cold. The minimum legal tyre tread depth is 1.6mm, but the AA recommend at least 3mm for winter driving.
Fluid levels should also be checked every week, at a minimum, and anti-freeze agents should be added to your radiator and windscreen bottle during winter weather.
On top of all this, winter weather can cause significant damage to road surfaces, creating loose gravel and potholes. Bumpy roads can lead to bumps on vehicles, so it's important that drivers take care on their journeys.
As an industry-leading van hire specialist, Flex-E-Rent offer comprehensive contract hire packages which include all Vehicle safety inspections, servicing and maintenance. This means that your fleet safety is never compromised, and your fleet budget stays healthy. Contact us today to find out more.