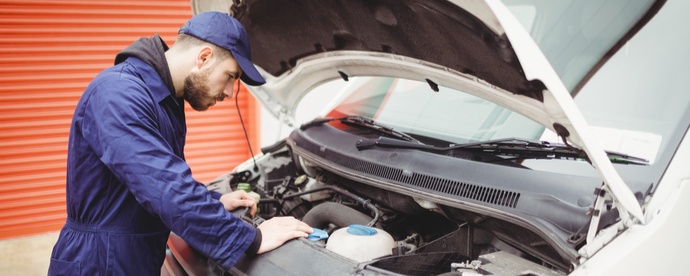 For any business that relies on LCVs, there's little worse than seeing vans out of action for a prolonged period of time. Each day that a vehicle isn't on the road is a day that it isn't working.
That's a dilemma that will face any fleet manager who needs to modify a van fleet. Whether the LCVs need to be fitted with livery, have secure locks fitted, telematics installed or be kitted out with specialist equipment, each of these activities takes time.
And if you own your vehicles, the problem becomes more acute because you either have to have vans modified in small numbers (so the remaining fleet isn't overstretched) or you have to pay for temporary vehicles to fill the gaps.
Sometimes modifications are just desirable, but they are thrust upon you. For example, there are a number of low emissions/ clean air zones being introduced in London and other cities by 2020, while most drivers of vans over 3.5 tonnes need a vehicle fitted with a tachograph. It can be expensive keeping compliant with the ever changing legislation.
Below we share our top fleet management tips on how to reduce the time it takes to modify your van fleet, while avoiding the financial hassles of sourcing replacement vehicles to cover vans that are temporarily out of service.
Active help with your modification programme
Whether you want to fit telematics systems, replace locks, add features like winches or beacon lights or make any other change to your fleet, enlist the time-saving help and advice of experts who have managed these modifications before. They can help you select the right equipment and materials for your needs, and even advise you on security changes that could make your vans move into a less expensive insurance class, saving you money in the long term.
Availability of equipment and materials
By sourcing vans from the right flexible hire provider, you can rely on the benefits open to a provider of hundreds of thousands of vehicles across the UK. This scale of operation means you can access the equipment and materials you need quickly, with far fewer delays as many can be sourced directly from stock.
Flexibility of timing
If you own your own vehicles and you need to modify them, it can be challenging to get them booked into a garage for the work to be done. This generally results in a more piecemeal approach to modifying your fleet and takes much more time. A large flexible hire provider will have the resources in-house to modify your vehicles more quickly and, depending on the work you need doing, can even send mobile mechanics to you.
Free substitute vehicles
As a flexible hire customer, you'll may qualify for free replacement vehicles while yours are being modified. This means you don't lose time from your business, and the more vehicles you need to modify the higher the time and cost savings stack up.
Sometimes you won't even need to modify your fleet
If you need to add certain types of equipment to your vans, or you require extensive changes, a flexible hire plan could entitle you to new, liveried vehicles with the exact specifications you need. In these cases you could simply take delivery of the new LCVs and make a straight swap with your existing vehicles. This not only saves time, but also removes all costs associated with taking vans out of commission and having to source replacements.
As you can see, flexible hire gives you a wide range of options that are simply not available to firms that own their own vehicles. Whether you need to modify your LCVs to handle different work, give them a new livery, install telematics or other tracking systems, or respond to legislative safety changes, a flexible hire plan means you can get the vehicles you need quickly, at low cost and with the minimum of hassle.
For more information on the points raised above and advice on choosing the right vehicle option for your company, you'll want to check out our guide: