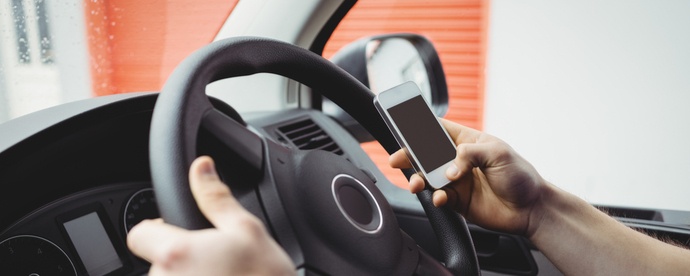 The consequences of using a mobile phone at the wheel have been highlighted yet again after staggering research that almost half of UK drivers still use their phone at the wheel, despite tougher penalties.
What does the law say?
Since 2003, it has been illegal to use a mobile phone whilst driving. The law makes it clear that even if you're not moving, for example if you are stopped at traffic lights or in traffic queue, it is still an offence to use a mobile phone.
A fully hands free phone can be used whilst driving – whether that is to answer a call or follow GPS navigation – but it cannot be picked up even for a moment and must be set up for use before the driver begins their journey.
But should more be done to make the law on mobile phone usage clearer? According to a recent article, one in 10 of the drivers surveyed said the law was unclear, while more than a quarter didn't know that using Google Maps on their phone or even just tapping the screen when behind the wheel is illegal.
A common misconception is that the vehicle has to be in motion for it to be an offence - this not the case. The law can apply if the vehicle is stationary in traffic, in a lay-by or at the side of the road.

In fact, the only legal way to use a mobile phone in a vehicle is to park and switch the engine off first.
What are the consequences and penalties?
The government is cracking down on mobile phone usage, with the prime minister asserting that she pledges for a cultural shift in our perception in it is just as unacceptable as drink driving.
The penalty was increased last year, where offenders now face up to 6 points on their license and a £200 fine, whereas in 2003 it was 3 points and a fine of £60. What's more, if a driver who had held their license for 2 years or less is caught, they can lose their license and be made to retake their test. More experienced drivers can face fines up to £2000 and a driving ban of up to 6 months.
If the police suspect that a driver is being distracted by a mobile phone, even if it is hands-free, they hold the power to pull them over.
What can you do to help?
Businesses have the power, and the obligation, to set clear instructions to their employees that using a mobile phone will not be tolerated. Employers should strive to educate their drivers on important safety issues.
A course or a seminar that goes through best practices, such as switching phones off, or diverting phone calls in the car could make a tremendous effect in reducing mobile phone related accidents.
The encouragement of Bluetooth, which allows drivers to answer calls hands-free, using the "do-not-disturb" mode on phones and utilising purpose-made apps such as "Life Saver" can promote safer driving.
You can help to meet your Duty of Care as an employer and safeguard your business fleet with focused fleet compliance management.
Fleet compliance and driver safety should be at the heart of any business, and as an industry-leading vehicle hire company we want to share our expertise. Our guide explains why it's vital to implement a fleet compliance strategy, and how it's possible within a company setting. You can download a free copy below.
Editor's Note: This post was originally published in July 2017 and has been updated for accuracy and comprehensiveness.