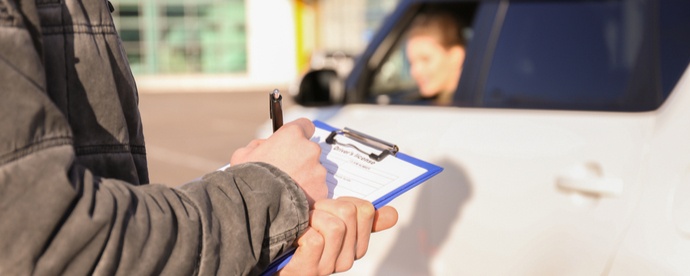 Did you know that, from the 4th of December 2017, there will be four significant changes to the UK driving test?
Although not an issue that's going to be at the top of your fleet compliance checklist, it's still worthwhile knowing what training the next generation of drivers will be getting when they first get behind the wheel. The good news is that the changes are positive, with the RAC Foundation billing the new test as a "far more realistic assessment."
To keep you up to date with the new test requirements, we've summarised them for you below.
Use of sat navs
Sat nav use has become pretty much ubiquitous in recent years, whether drivers use a built-in or dedicated device, or even an app on their phone. To reflect this, examiners will test a drivers' ability to use a sat nav as an alternative to following road signs. The Driving and Vehicle Standards Agency (DVSA) says that this will teach new drivers to better manage distractions.
More time spent on independent driving
Independent driving was first added to the driving test in 2010. The examiner shows the driver a diagram or map with a marked route, and then asks the driver to follow it. The point is less one of following the route correctly and more one of assessing the driver's ability to keep calm and drive safely. Currently this section of the test lasts about 10 minutes, but from December it will be extended to 20 minutes. Again, this change is to better assess candidates' skills in a real-world situation.
More 'real-life' scenarios
The current driving test is known for testing manoeuvres such as 'reverse around a corner'. These will be replaced with manoeuvres that candidates are more likely to encounter in day-to-day driving, such as driving into and reversing out of a parking space.
Changes to 'show me / tell me'
The current show me / tell me session at the beginning of the driving test involves testing knowledge such as checking indicator lights are working, using the windscreen washer and wipers and adjusting headrests to be in the safest possible position. From December this will change so that 'tell me' questions (such as 'where do you find the recommended tyre pressures for the car?') take place at the beginning of the test, while the 'show me' questions take place during actual driving (such as operating the horn, opening the side window or demisting the rear windscreen).
We believe the changes to the test are positive, and do seem to better reflect real world driving conditions. That's got to be good news when fleets get to the stage of recruiting the next generation of drivers.
Staying up to date with changing legislation is vital for fleet managers. Why not learn more and download our free eBook: