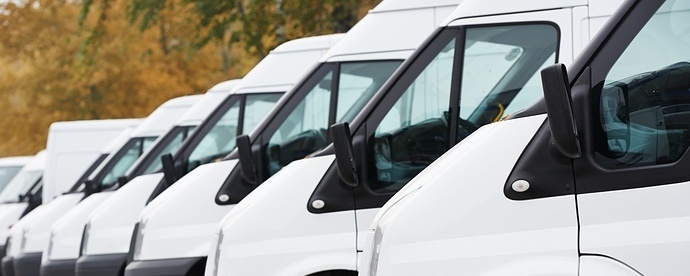 Fleet operators choose van hire deals for many reasons. Some just want cheap van hire, others are attracted by the tax benefits on offer. Many companies opt for van rental because they're seeking organisational flexibility and a choice of brand new vehicles for their fleet. The prospect of avoiding maintenance costs and minimising off-road time also appeals to many fleet operators.
For the thousands of British businesses that rely on commercial vehicles to get their jobs done every day, contract hire provides all of these benefits, plus many more. In fact, there are too many advantages of van hire to mention in a single blog post. Some fleet operators may still prefer to own their vehicles outright, but the argument for contract van hire is now increasingly compelling, particularly as economic conditions remain so challenging for companies in the UK.
Here, we explore why van hire is perfect for fleet operators by looking at five key benefits.
1. Avoid depreciating assets
Not only does van rental preserve capital, it allows companies to keep depreciating assets like vehicles off their balance sheet. Hiring your commercial vehicles mean you don't have to spend a large amount of money on a fleet of vans and then watch their value decrease rapidly as you use them.
2. Cut out maintenance costs
No matter how reliable your vehicles are, they're out on the road every day and will inevitably require some repairs and maintenance work from time to time. This can be expensive, as well as a drain on your time and resources. With van contract hire from Burnt Tree, all servicing and maintenance costs are included in the rental price. We also provide breakdown cover at no extra cost, which means minimal off-road time for your drivers if a problem arises with your vehicles.
3. Access a huge range of new vehicles
Van rental provides access to a wide selection of vehicles, which means fleet operators can always get their hands on the vans they need. At Burnt Tree, we're proud to offer the widest range of commercial vehicles of any rental company in the UK. We provide the latest models and our entire fleet is replaced regularly, so our customers always have access to brand new vehicles.
4. Unlock tax benefits
The financial benefits of van rental go further than the removal of depreciating assets from the balance sheet. Van hire provides tax relief, as the cost of the lease payments can be deducted from your taxable income each year. You can also claim back 100% of the VAT, providing the vehicles are used exclusively for business.
For more information, check out our guide to van taxation.
5. Enjoy real flexibility
Once you've purchased a van or several vehicles, there's not a lot you can do when unforeseen circumstances arise or the demands on your business suddenly change. By contrast, choosing to rent a van or a fleet provides the flexibility you need to respond quickly when business picks up or momentarily drops off.
At Enterprise Flex-E-Rent, we're committed to providing a truly flexible hire service. We know that no two companies are the same and that demand can change on a weekly or even daily basis. That's why we combine the benefits of fixed-term hire with the convenience of flexible rental - you can return vehicles with just 14 days' notice if necessary.
EDITOR'S NOTE: This post was originally published in October 2013 and has been updated for accuracy.