Ask any fleet operator whether LCV theft is on the rise, and the chances are they'll tell you it is. Sometimes it can feel like it's a full time job preventing thieves from walking off with your vans, tools and catalytic converters.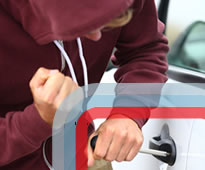 But what about the official statistics? Does the evidence support the notion that LCV theft is on the up and up?
It's a tough one to call. For some reason, the Crime Survey for England and Wales does not provide details of make or model in its vehicle theft statistics — so it's impossible to tell whether LCV theft is really on the rise.
Even so, there are important lessons you can learn from the vehicle theft figures. We take a quick look behind them and give you some tips on keeping your LCVs safe and secure.
1. LCVs are most often stolen at night, on weekdays
Thefts, attempted thefts, and thefts from vehicles are consistently more likely to take place in the evening or at night. In 2011/12, 78% of vehicle theft in the UK took place at night, compared to only 22% during the day.
Vehicles are also most vulnerable on weekdays. In the same period, 69% of crimes took place during the week, with only 31% happening at weekends.
These stats back up the findings of a 1998 report by the Police Research Group, The Nature and Extent of Light Commercial Vehicle Theft, which found that 64% of LCVs were stolen at night, and that thefts dropped off during the weekend.
Tip: Ensure your LCVs are kept in a safe, secure place at night. If you have to leave vehicles where thieves have easy access, invest in pick-proof locks, OBD port protectors and Cat Guard catalytic converter devices. Do not leave tools in any van overnight.
2. Most LCVs are stolen from residential areas
The Crime Survey figures reveal that most vehicle theft takes place in residential areas. This is again backed up by the earlier Police Research Group report which found that 66% of vans were stolen from these places, with 12% going missing from industrial estates and 10% from shopping areas.
However, with tools like vehicle lock picks and OBD hacking devices, criminals can now steal LCVs within minutes — so if a thief can access your vehicle, it's at risk.
Tip: If your drivers keep their vehicles at home, it's doubly important to install security devices to prevent theft. Always make sure company parking lots have CCTV and secure fences and gates.
3. LCV thieves don't need to break and enter
Over the last decade there has been a significant drop in the number of criminals breaking windows and forcing locks to steal vehicles. Instead there has been a dramatic rise in offenders using a key — up from 9% in 1995 to 46% in 2011/12. This is almost certainly due to the easy availability of computer software that allows the thieves to clone your vehicle's electronic key and drive off.
Tip: Fit pick-proof locks to your LCVs and slam-plate locks that ensure doors are locked every time they are shut. If the criminals can't gain access to the cockpit, they'll probably look for easier pickings.
4. Few stolen LCVs are returned
Many LCVs are stolen to order, and they can end up anywhere in the world within a matter of hours or days. In 20011/12 only 38% of all stolen vehicles were returned to their owners — compared to 61% in 1997.
In the mid 1990s, the estimated recovery rate for LCV recovery was significantly lower than that for all vehicles. If this trend has continued, then it may be that only a third or even a quarter of stolen LCVs are returned to their owners.
Tip: Remember you're up against criminals stealing to order, not just opportunistic thieves. Make their job as hard as you possibly can.
5. LCV catalytic converters are easy pickings
In 2011/12, the most frequently stolen items from all vehicles were exterior fittings. Reports from many sources suggest that catalytic converters account for a significant proportion of them — police forces like Nottinghamshire, Suffolk, Northamptonshire and others are all warning of a current spate of catalytic converter thefts.
Tip: Catalytic converters net the thieves a few hundred pounds, but they can cost thousands to replace because of the precious metals they contain. Fit a Cat Guard device, which will sound an alarm and send you a text message if a thief attempts to unbolt or saw off any part of your exhaust system.
Summary – stay one step ahead of the van thieves
While it's frustrating that detailed statistics relating to LCV theft aren't available, some trends are clear from the general vehicle theft statistics – LCVs are increasingly targeted by both opportunistic and organised criminals, who both use techniques that allow them to drive away your vans or steal from them within minutes.
Look at your vehicle security from the criminals' point of view and make sure your vans are kept in a safe place (especially at night) — and that they have up-to-date security features like anti-pick locks, Cat Guards and OBD port protectors.
The thought of paying extra for security may worry you, but consider the alternative — stolen vehicles ruin your productivity, create hassle and push up your insurance premiums. But if you hire your LCVs from a commercial fleet hire company, they can fit all the security features you need for a minimal extra monthly cost.
If you'd like advice on making your own vans safe and secure, why not give us a call? We'd be happy to help you find the best solutions for the makes and models in your fleet. Alternatively, you can download our expert guide on how small businesses can help protect themselves against van theft.