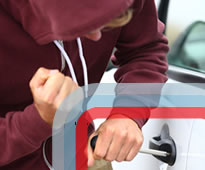 Van theft is a big problem for businesses and fleet managers. Unless you take steps to protect your vans from theft, a valuable asset could be stolen from you at any time.
According to Fleet Van, around 47,000 commercial vehicles are stolen in the UK every year, at a total asset cost of £152 million. Surprisingly, the Ford Transit is the UK's most stolen vehicle. So how can you protect your fleet? Well, here are some quick tips to keep your vehicles safe and secure...
1. Change the locks
Some vehicles have locks that can be opened in under a minute using specialist lock picks available on the internet. We don't want to advertise any of these sites but typing a basic Google search reveals dozens of pages selling lock picking and decoding equipment for as little as £10 — and instructional videos that show you how to use it.
To combat this problem, consider replacing your locks with an anti-pick replacement cylinder. Choose a model that has been endorsed by the Thatcham Motor Insurance Repair Research Centre or by Sold Secure. These products have been subjected to high intensity security testing, guaranteeing the highest levels of deterrence.
You can also install additional locks to protect tools and prevent access via all doors. Look for accredited Slamlocks that automatically lock doors when they are shut, Slamplates that add an extra layer of protection over manufacturers' door handles, and deadlocks that improve security by adding extra locking points.
2. Install catalytic converter protection

Catalytic converters contain valuable metals such as platinum or gold, and because they're often secured by only four bolts, are an easy target for thieves.The number being stolen each year is rising rapidly and the cost of replacement can run into thousands. Vehicles with high ground clearance are particularly vulnerable.
You can protect your catalytic converter by installing a security device called a CATLOC These products have been extensively tested and any attempt to cut the exhaust pipe or remove the retaining bolts will activate the alarm, preventing both the theft of your catalytic converter and damage to your vehicle.
3. Use an OBD protection device
If you use the Mercedes Sprinter or Ford Transit models in your fleet, be sure to fit an ECU/OBD protection device. These prevent thieves from using a laptop or PDA to override your vehicle's immobilisation system and driving away within minutes.
4. Make use of tracking (GPS) services
If you use GPS services to track your fleet, they provide an extra line of defence against theft. While professional thieves will know where to find a GPS device and remove it before driving off, many opportunist thieves will not. If they steal your vehicle, you can then track its whereabouts and alert the police.
5. Think 'thief'
Take simple precautions that make the thieves' lives more difficult. Keep an eye out for people working under vehicles, park in safe and well-lit places and make sure your drivers are trained to lock doors behind them every time they leave the vehicle.
To prevent van theft, you also need to think beyond the vehicle. Andrew Smith, Managing director for Cobra Alarms, recently told Fleet Van: "Stealing van keys, often through burglary, is now the most popular way for thieves to take vehicles, with 75% of all thefts done this way".
"Simple tips around keeping your office secure can also help prevent van theft, which generated £1.5bn in criminal profit in 2012."
How van leasing can help
One drawback to most of these these precautions is the cost. When you have paid for extra locks and security equipment, it pushes up the price of your vehicles.
Alternatively, if you lease your vehicles, you can ask your leasing firm to provide vehicles with the security features you need. Besides the time and hassle you'll save by outsourcing to an expert, it also means that if your vehicle is damaged or stolen, the van leasing firm may be able to lend you a replacement vehicle while you deal with the police and your insurers.
Discover more about van theft trends and how you can prevent it with our guide:
Editor's note: This updated blog was originally published in April 2013.