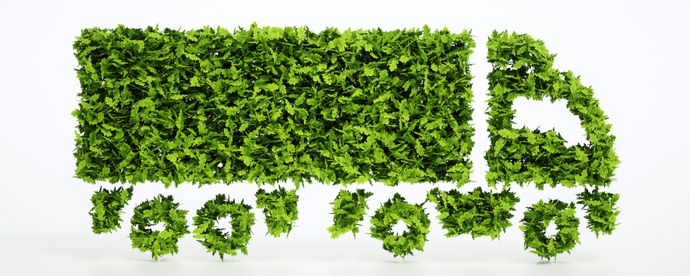 The Euro 6 emissions standards became compulsory for all new LCV vehicles on 1 September 2016.
As the move towards tighter emission regulation increases, businesses now more than ever are becoming concerned about their fleet's carbon footprint, not only to avoid paying hefty vines due to ULEZ and clean air zones (CAZs), but also to help contribute to a cleaner and safer environment.
A report found that 54% of companies are taking steps to 'greenify' their fleets. So what can you do to help do the same? Here we look at five ways you can reduce your fleet emissions.
Vehicle maintenance
For maximum fuel efficiency and driver safety, have every vehicle alert you to an upcoming service as well as unexpected developments.
One area of maintenance that is often overlooked by busy drivers is tyre pressure. Having well-inflated tyres can have a positive effect on CO2 emissions. Too little pressure can lead to a higher rate of rolling resistance, which makes the engine work harder and consume extra fuel as a result.
The right vehicle for the job
New research shows that more than half of UK companies are now adopting eco-friendly vehicles. But reducing emissions is not just about using eco-friendly and Euro 6 compliant vehicles - matching the right vehicle for the job will help too.
For example, avoid sending out large lorries or vans to deliver goods that do not require the muscle of a 4x4. It might be worth investing in a smaller vehicles for these types of deliveries if this is a regular occurrence in your fleet.
Consider switching to a flexible hire model of fleet management. That way, if your vehicles don't comply with emissions legislation, you can simply swap them for no additional cost.
Lose weight
Did you know that ditching just 45kg of excess weight can increase fuel efficiency by up to 2%? You can reduce the vehicle load by removing unnecessary weight such as roof racks or tool boxes, if they are not needed for the job.
Ever find you accumulate tools and items in the boot or backseats over time without you really noticing? Then it might be time for a clean-up.
Travel planning
The best fuel-saving tactic is to not drive at all. Consider whether the journey you are planning can be avoided through the use of audio - or video - conferencing facilities. If so, these should always be the first option to help remove all carbon dioxide emissions and the bulk of the cost per journey.
Of course, this isn't always possible with a fleet where scheduled and delivery slots need to be stuck to, so the next best thing is finding the quickest route. Sat navs and travel planning systems can help find you the quickest route to your destination and avoid traffic jams. Plus, their initial cost will be recovered in fuel savings overtime.
Driver behaviour
Managing and monitoring driver behaviour can have a huge impact of your fleets carbon footprint by reducing fuel consumption by 10-30%. Studies found that aggressive driving at high speed can consume 33% more fuel.
Over to you
Vehicle use, maintenance and driving behaviour can all have a significant impact on a vehicle's fuel economy but if you feel making a lot of changes to your fleet is too difficult, try focusing on one area at a time before moving to the next point. What steps, if any, are you taking to help reduce fleet emissions? If you have any other tips we've missed off the list, leave a comment below – we'd love to hear from you.
Making the right choices now will ensure your business is well-equipped to deal with current and future regulations, as the government continues to penalise those with little concern for the environment.
For more information on how your business can keep compliant, download our free guide: